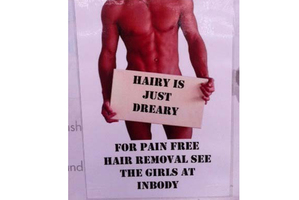 Sensitive beauty
"Some people are just way too sensitive," writes Helena. "A young man ripped the sign off the notice board of the beauty salon in the Smith & Caughey building in the Auckland CBD. He stormed into the salon with the notice in his hand and announced to the stunned beauty therapist that the sign offended him. She assumed it was the implied nudity that was deemed offensive, but no. It was actually that the young man was hairy and he didn't consider that he was dreary ... we are not so sure!"
Side order of outrage
While in a Napier cafe Maggie placed her order, picked up her docket and sat down in the fairly large room. "It did cross my mind that the waitress would have to find us and we had not been given a number or any other form of ID for table or order ... or so I thought. Then I noticed that on my docket was written "BLACK LEATHER, OLD" . Ouch. We're not young, but old? Stuff the lot of you, I thought, and promptly removed the black leather jacket and hid it under the table-top. And fluffed up the blonded hair.
That must have worked because they took an age to find us. If they read this, I hope by the time we go back there they will have created some kind of discreet numbering system."
Body parts not working
Rex Head from Mt Wellington writes: "Years ago I went for a labouring job in New North Rd. We lined up at 6am and the boss came out and selected me and another guy. In the office he said to me, "what's your name?" I replied. "Head." "And what's yours?" he said to the other guy. "Foot," the man said. The boss kicked us out thinking we were having him on. When we got out the other guy showed me his licence and his name was Foot!"
Familiar couple looking for bigger stable
Lawyer Helen writes: "One day I received a call I thought had to be a hoax. A woman who said her name was Mary was buying a property with settlement to be Christmas Eve. I asked when she could come in and sign the documents, etc. She said she would have to check with her husband Joseph. I got off the phone and told my boss I thought I'd just had a prank call. My boss confirmed it was legit and that they were old clients. (And no she wasn't pregnant.)"
#Life is pefect
Mike Hosking, renowned for tweeting 'life is perfect' sentiments such as the one above, has been parodied under the hashtag #tweetlikehosking. "Backed over a peasant today Maserati fine Foie gras in glovebox Life is perfect," quipped one. "There's little more fabulous than getting into one's silk pyjamas & having an organic hot chocolate in front of the fire," mocked another. Not completely without humour Hosking tweeted: "So now I am so famous and important Someone has parodied my twitter account Life is perfect."
Picture this: This yawn-themed duvet cover designed by Dutch bedding company Snurk is based on the contagiousness of the yawn. Because seeing others yawning, makes people yawn and the act of yawning fascilitates sleep.
Picture this: A group of thrill-seekers (with a death wish) kayak waters surrounding Kilauea, an active volcano Mauna Loa in Hawaii, alongside flows of molten lava as it streamed down the gushing volcano. One stuck his paddle in the lava - yip it melted.
Video: Shadow dance act impresses at Britain's Got Talent Auditions....
* Got a Sideswipe? Send your pictures, links and anecdotes to Ana here.