Meagre bipartisan proposal to tighten background checks still woefully inadequate in light of Sandy Hook.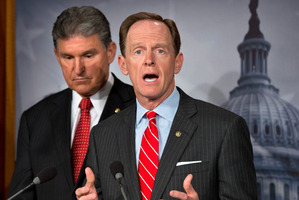 When he was running for the US Senate in 2010, Joe Manchin put out a campaign advertisement in which he literally shot down a law.
"I'll always defend West Virginia," said Manchin in the television ad, loading a bullet into his rifle in the woods, as the screen flashed the symbol of the National Rifle Association to remind voters of his gold-plated A-rating from the pro-gun lobby group.
For a Democrat to get elected in rural West Virginia is no mean feat, and Manchin basically had to run to the right of Sarah Palin to get elected.
"I'll take on Washington and this administration to get the federal government off our backs," he said, still holding the gun.
"I'll take dead aim at the cap and trade bill," he continues, then fires a shot into the cover page of draft climate change legislation, an issue synonymous with pinko liberals.
But, just as only Nixon could go to China, last week Manchin achieved the not insignificant feat of brokering a bipartisan bill to expand the US's gun control laws.
Together with Pat Toomey, the Republican senator from Pennsylvania who also has an A-rating from the NRA, they unveiled a bill that will close the "gun show loophole" and require anyone who buys a firearm at a trade show, or online, to submit to a background check. It will be debated this week.
Anyone who has a felony conviction, or a misdemeanour for domestic violence, is ruled out, as are people who are "adjudicated mentally defective," meaning they have been involuntarily committed to a psychiatric unit.
But a background check will not scoop up those who have lower level mental health problems.
Nor will it not affect the overwhelming majority of private gun sales - which, incidentally, is how criminals can most easily get weapons.
Manchin's own fact-sheet stated that people will still be able to "give or sell a gun to your brother, your neighbour, your co-worker without a background check. You can post a gun for sale on the cork bulletin board at your church or your job without a background check."
Any hopes for stronger measures - like, say, universal background checks, or a ban on the military-style assault weapons and the high-capacity ammunition magazines used in the Connecticut school shooting in December - were dashed weeks ago.
Yes, the US Congress is a group of people that still harbour concerns about the dangers of same-sex marriage on society, but would never dream of restricting Americans' "Constitutional right" to own automatic weapons like those used in combat in Afghanistan.
For sure, it is a big deal that Republicans and Democrats were able to agree on any kind of gun violence deal, given the political toxicity of the issue and the NRA's influence on elections. (Last year it spent more than US$25 million ($29 million) supporting pro-gun candidates and besmirching ones considered hostile to gun rights.)
Indeed, given that a handful of Republican senators were threatening to stop the bill even being debated, Washington was overjoyed this week when the first vote on the bill, to allow it to proceed for discussion, was passed 68-31. Overlooked was the fact that 31 senators, including two Democrats, voted against even debating the merits or otherwise of the bill.
It is an indictment on the US that this is all that the Senate could come up with after the Sandy Hook school shootings in Connecticut.
What's worse, this is the high water mark. This is the deal that has a shot at passing in the Democrat-controlled Senate. Whether the Republican-dominated House of Representatives, where Speaker John Boehner has increasingly been held hostage by Tea Party conservatives, passes any kind of bill is a different matter.
If they do, it will be an even more diluted version of the Senate bill.
As for President Barack Obama, he has taken a back seat in the gun debate. It is somewhat understandable that he has tried to keep his distance, given that his association with the bill will make it more difficult for Republicans to support it.
But at the same time, if the President is not prepared to spend his political capital on this issue, what issue is worthy?
After all, it was Obama who said in a speech at the University of Hartford, just 75km from Sandy Hook school: "This is not about politics. This is about doing the right thing for all the families who are here that have been torn apart by gun violence."
So will American lawmakers do the right thing for these families? Or will they do the right thing for their electoral prospects?
If 20 bullet-riddled little bodies were not enough to spur politicians into action, nothing will.
Anna Fifield, a New Zealander, reports from Washington for the Financial Times.
Debate on this article is now closed.