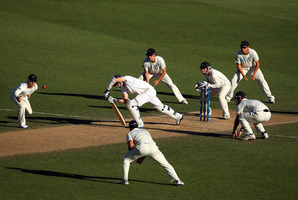 Nobody was predicting this.
The general consensus from those in the know was that we could beat England in the shorter formats but the No2 test team in the world would expose us wearing whites over five days. England had an experienced batting line up with impressive averages in the 40s. Their bowlers could swing the ball at pace. They were led by the one of the best opening batsman statistically the world has ever seen.
They'd come off an impressive series win in India - the first English team to do that since Gladstone Small shrugged in. Their opposition was young. They were given a hiding by the best team in the world a few months before. Their batting looked prone to collapse. Some fans had given up hope. New Zealand's chances were poor.
How quickly things can change.
Today, New Zealand go into the final day of the third test at Eden Park in a very unfamiliar position - favourites to win a test series against one of the better English teams in their long and proud history.
Eden Park had a strange feel about it last Friday. As Peter Fulton and Kane Williamson pushed us to 250-1, I found myself staring at the scoreboard wondering whether I was witnessing something special. I thought about the spectators who watched our last home test series win against England at Lancaster Park in 1984 when Tony Pigott's grunt and the sound of the ball on Richard Hadlee's GM Cannon signalled a great victory.
On Friday, Fulton's helmet looked a little less crooked than usual. His shoes seemed newer. He'd learnt from his last couple of dismissals and he'd decided to put the back-foot drive away.
Fulton looked determined. He caught the English bowlers napping. New Zealand sent a message to England that day... we really want to win this game more than you. The English looked deflated. The much anticipated pace and bounce of the Eden Park drop-in pitch never eventuated.
It's been seven years since Auckland hosted a test match - insane considering that a third of New Zealanders live here. Eden Park has had more facelifts over the past 20 years than Joan Rivers and none of them have been to the benefit of cricket. The straight boundaries are short. The square boundaries are long. Most of the seats are empty. But despite all its shortcomings I enjoyed every sun-filled moment there.
Day after day I have found myself drawn towards the park, lured by our team's gutsy performance.
So what happened to the English? Were they homesick? Had they been lured into a false sense of security?
What I do know for certain is that their poor showing in Auckland correlates to the delivery to the teams' hotel of a free package of Herbal Ignite - the herbal supplement that aids healthy erections.
I'm not sure whether any of the English players took the pills, or whether any English players suffer from erectile issues, but I can say that playing cricket with an erection is both difficult and dangerous, so whoever had the idea has potentially changed the course of New Zealand cricket history for the better.
Through an unlikely combination of Peter Fulton's batting and Herbal Ignite erectile dysfunction pills, New Zealand Cricket may have finally found the formula to springboard us to cricketing greatness.