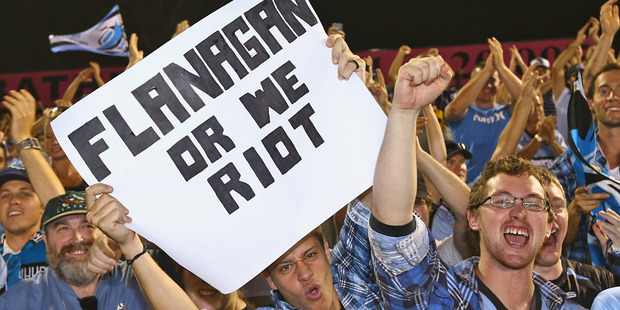 League is getting a good kicking, as are the Cronulla Sharks, but justice is suffering most in the NRL drugs scandal which is predicted to widen.
This damaging saga bears some hallmarks of a witch-hunt. Serious accusations have been made on scant technical evidence, followed by attempts to railroad players into confessions via the carrot of escaping the most draconian punishments.
A group of Cronulla officials, including the head coach, have been axed (allegedly for management issues), despite declaring their innocence and facing no specific charges. It's truly outrageous, a reflection of a drugs-in-sport hysteria and a sporting world obsessed with image making.
Whatever your view on drugs in sport, the basic principles of justice should remain the same and I would suggest they have been badly broken. Both the sacked Cronulla men and the under-suspicion players would be best advised to get top legal advice. In the absence of one positive drug test, the authorities are using strong arm tactics that may need to be tested in courts of law.
Firstly, the obligatory line - I'm not promoting cheating. But just as the first casualty of war is the truth, the first casualty of drug investigations in Australian sport appears to be the presumption of innocence. The Aussie Crime Commission report made public a month ago, with its bloated claims and "blackest day" reactions, has set up an atmosphere ripe for unfair slurs, scapegoating and fear-based remedies.
As a journalist friend of mine who lives in Australia reckoned: the drug testers are "building a public relations case for their own relevance by pumping up the shadowy threat of the drug cheat".
I would advocate a general amnesty in the football codes, a truth and reconciliation type deal to start building a new era in a spirit of co-operation.
If the Australian Sports Anti-Doping Authority is so clever, then why did their drug testing regime not pick up any evidence at Cronulla, for instance, where they claim there was mass use of illegal enhancers. Tragically, a former ASADA boss Richard "Blackest Day" Ings has said positive drug tests are no longer needed, that other evidence including witness testimony and phone taps can be used. If the drug testers are going that way, then the players need the protection of the law. The whole story has been quite confusing so far, but what stands out is the lack of hard evidence.
A drawn out, aggressive investigation into a number of clubs will do more bad than good for the football codes. Okay, some "cheating" may have gone on amid a new culture that needs to be changed. But no one died, the sun still rises, and why try and wreck a club or a sport. The players under the gun may well have acted out of ignorance.
So perform the clean-up in a caring manner instead of through a drug testing agency using the Eliot Ness playbook, and set a new tone at this watershed moment. Julian Savalescu, a professor of human development ethics, has it right when he says a "war on drugs" in sport will only drive the problem further underground, and make the cheats smarter. Authorities need to build trust instead, through educating and closely working with athletes and clubs over what they can use.
In this current case, a general amnesty would help ASADA and everyone else get the full range of opinions and facts, and understand the environments in sports teams and clubs that can lead to problems.
By the same token, it was sad to hear Cronulla captain Paul Gallen refer to the "crap" that had gone on during last week, after his team's first round victory against the Titans. Integrity is needed on all sides.