Each week, Wendyl Nissen takes a packaged food item and decodes what the label tells you about its contents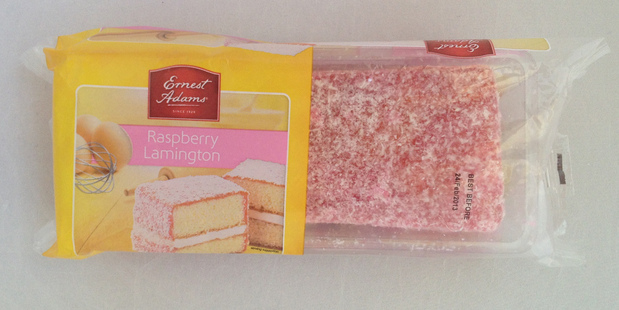 Ernest Adams Raspberry Lamington - $4.99 for 300g
About a month ago I bought this product with the intention of reviewing it for this column. Since then it has sat on my desk staring at me as I've chosen other products to look at.
I have looked at it every day, and as the weeks went by marvelled at how fresh and inviting it still looked. "Surely it'll go mouldy or start looking a bit odd," I said to myself.
And then it reached it's best-before date of February 24. "Anytime now," I told myself.
But as I write this on March 4, it still looks very perky, and when I opened the packet it was soft and springy, smelled perfectly fine and even the cream in the middle seemed okay. Which is when I got worried.
I have been making a lot of sponges lately because I discovered a very old recipe that uses duck eggs, which I tested and wrote up for my column in the New Zealand Woman's Weekly (see below for a link to the recipe).
I know that a sponge cake, which is what this cake is mostly made up of, lasts only two days before becoming dry and unappetising.
What on Earth was in this cake to keep it so fresh looking?

Ingredients (in order of greatest quantity first):
• Sugar - This is a cake so of course there's going to be sugar in it, but this is quite high at 50.5 per cent.
• Wheat flour - Flour you would use to make a cake at home.
• Vegetable fat - Not sure what fat this is.
• Egg - Eggs are essential for a sponge, which is basically what this cake is.
• Water
• Butter (from milk)
• Glucose (sulphites) - This is more sweetness, the mention of sulphites will be possibly because of a preservative used in the glucose. It is mentioned here because some people have allergic reactions to sulphites.
• Wheat starch - This is similar to corn starch and will be in here as a thickener.
• Milk solids - These are left over when you take the water out of milk.
• Coconut - An essential ingredient for coating lamingtons.
• Raising agents (500,541) - These are baking soda and sodium aluminium phosphate)
• Humectants (420,422) - Humectants keep the moisture in processed foods and stop them drying out. These are sorbitol (420), which can have a laxative effect if a lot of it is consumed, and glycerine (422).
• Thickeners (1422,1442) - These are acetylated distarch adipate and hydroxyl-propyl distarch phosphate, which are both treated starches.
• Emulsifiers (soy lecithin, 435, 471) - Emulsifiers help keep everything mixed together such as oil and water. Soy lecithin is a naturally occurring product. Polysorbate 60 (435) is a synthetic compound. Some studies show cancerous tumour growth on rats and mice that have been fed this additive. Further testing is being done but there are no restrictions on it being used in our food.The other emulsifier is mono and diglycerides of fatty acids (471), which has no known adverse health effects.
• Gelatine - This is a natural substance, often used in a jelly, which is used to coat this product.
• Preservatives (200, 202,211) - These are sorbic acid (200), potassium sorbate (202) and sodium benzoate (211).
• Stabilisers (412,415) - These are guar gum (412) and xanthan gum (415).
• Flavour - This will be artificial flavour as the words "natural" and "nature identical" are not used.
• Salt - Sodium levels are not too bad on this product at 85mg per 38g serve.
• Maltodextrin - This is a form of sugar often used in processed foods as a thickener.
• Colour (102,122,123,160a) - The first three colours are artificial and controversial. Both tartrazine (102), a yellow colour and azorubine or carmoisine (122) - a pink colour - were included in a voluntary phase out called for by the UK Food Standards Agency after concerns that they caused hyperactivity in children.
The European Union also requires that any food containing these two colours has a warning on the label that says "may have effects on activity and attention in children".
Azorubine is also not approved for use in the United States and amaranth (123) - a purple colour - has been banned in the US since 1976. Carotene (160a) is a natural orange colour.
• Food acid (330) - This is citric acid.
• Antioxidant (320) - This is butulated hydroxyanisole or BHA, which healthy eaters avoid.
The US Department of Health and Human Services says that BHA is "reasonably anticipated to be a human carcinogen based on evidence of carcinogenicity in experimental animals".
However, it is thought that the low intake of BHA shows no increased risk of cancer in humans. California has listed it as a carcinogen.

My recommendations
It takes 34 ingredients and a vast cocktail of preservatives, humectants, thickeners, stabilisers, emulsifiers and antioxidants to keep this harmless looking cake edible for more than a month.
Then there are the three artificial colours, two which require a warning label in the EU and two which not been approved for use in the United States. Oh, and the artificial flavour, and controversial BHA and polysorbate 60.
To make this yourself you would need sugar, flour and eggs to make the sponge - that's three ingredients plus some cream for the middle. (Try my recipe.)
To finish it you would need to use raspberry jelly, which has similar artificial flavours and colours to this (unless you make your own from scratch) so instead opt for a chocolate lamington that uses chocolate icing (four natural ingredients) and a sprinkling of coconut (one ingredient).
That's a total of nine ingredients compared to 35. And you would be eating real food goes off and doesn't sit on your desk in the middle of summer for weeks with no adverse effects, which is just scary.
The reason food manufacturers do this is simple economy.
A cake that can sit on a supermarket shelf for a month is a much better financial proposition than one that has to be replaced every few days.

Highlights
• Nearly three dozen ingredients to keep it looking good and edible for a month.
• Three artificial colours, two not approved for use in the US, two require warning labels in the EU.
• Two controversial ingredients BHA and polysorbate 60.

Do you have a food product you would like us to feature?
Email wendylwantstoknow@gmail.com with suggestions. Unfortunately Wendyl cannot correspond with readers.
Read Wendyl's columns on other food products.