We need people with their determination to succeed.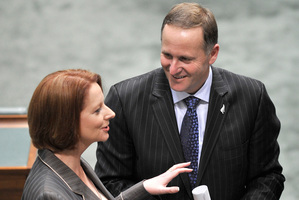 John Key has imported to New Zealand one of the longest running arguments in Australian politics with his concession to Prime Minister Gillard at the weekend that will see New Zealand accepting 150 "boat people" a year from Australia's off-shore processing centres. To critics, New Zealand will be complicit in an inhumane and punitive system of detention beyond the protection of law.
Julia Gillard's Labor Party used to share that view. When it came to power in Canberra it closed the centres on Nauru and Manus Island in Papua New Guinea that had been established under John Howard's Pacific Solution. But under the pressure of illegal immigration the Labor Government soon re-opened them and built additional processing facilities on Christmas Island and at Darwin.
These tropical holding pens are undoubtedly hot and unpleasant. The United Nations High Commissioner for Refugees has criticised the lack of air conditioning at Nauru and the inadequate health services for those who may be suffering from previous torture and trauma and likely to be in delicate mental and physical condition.
But it is hard to see what else Australia can do. Its northern coasts are within reach of unapproved migrants as well as genuine refugees. The island camps are undoubtedly intended to deter people from setting out, and the conditions in the camps can hardly be worse than those refugee families would face if they made it to shore in the outback.
Nor can Australia be blamed for keeping them outside the jurisdiction of its courts. New Zealanders have only to recall the name Ahmed Zaoui to realise how long a case can take.
New Zealand is in a very different position. The flimsy boats that can cross placid tropical sea would not last long in the heaving swells they would meet in latitudes well to the north of New Zealand. Yet our Government seems convinced that the journey can be made and Mr Key says his intelligence sources tell him boat people have set their sights on us. His deal with Ms Gillard would see them also diverted to Australia's off-shore camps.
That is probably an unnecessary precaution but if it deters any group from setting out on so perilous a journey, it would be worthwhile. The more useful return on taking some of Australia's asylum seekers is Ms Gillard's undertaking to help New Zealand pursue student loan debt owed by expatriates in Australia.
Critics of Australia's treatment of boat people say the problem should be addressed instead in Indonesia, Malaysia and other places from where these people set out. Possibly their hazardous journeys would be discouraged if there were more accommodating arrangements for them in those countries but there does not seem much that Australia or New Zealand can do about that.
Helen Clark was acclaimed in this country when she relieved Australia of 131 of the asylum seekers rescued by the Norwegian ship Tampa in 2001. Yet Mr Key is criticised for accepting 150, not as a one-off but as an annual commitment?
The pity is that these people will not be added to our annual quota of 750 refugees accepted through the UN resettlement programme but will displace 150 of those people. We could, and should, do far better than reducing our programme quota to 600 a year. A total of 750 refugees is paltry in a population of 4.4 million. We could surely do better.
Australia does far better, its annual refugee intake as a proportion of its population is five times ours. These asylum seekers may not have much, but they must be energetic and determined to succeed, the sort of people we need.