Two great sportsmen, Armstrong and Woods, both cheated but redemption is possible, says Alan Goldman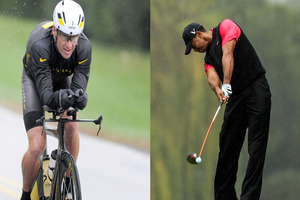 There are comparisons to be drawn between two of sport's greatest fallen idols in recent years: Tiger Woods and Lance Armstrong. Both scaled the highest pinnacles of their respective sports, reaping the accolades and rewards that came with their achievements. Both cheated.
Tiger Woods, by his repeated womanising, cheated on his wife and family; he tarnished his own name and that of some of his sponsors who capitalised on his clean-living, family-man image.
However, Tiger never brought shame to his sport nor his colleagues on the professional golf circuit. He achieved his mastery through talent, iron will, practice and hard work and is trying to find his form of old, having returned to the professional circuit. His is an instance of, "how the mighty are fallen".
Lance Armstrong cheated in order to achieve his victories. He cheated in order to cover up what he knew was wrong. He has as a consequence brought shame to his sport and professional colleagues.
He speaks of drugs having levelled the playing field and ironically that may be true: by accusing others in his sport of doping, he has unfortunately brought those cyclists who do not use drugs - some of whom he may have denied worthy victory in the Tour de France - down to his level.
There is a growing body of evidence that the use of anabolic steroids in young men can lead to testicular cancer, casting suspicion that Lance Armstrong's doping may even have led to his disease.
Although the suspicions have not been proven, or for that matter discussed by Armstrong, there is sufficient cause to believe he had been using drugs from early in his long career. Surely, his is a case of, "how the fallen are mighty".
It is indeed a tragedy that the man who has raised much money for cancer research and has been a source of inspiration to so many cancer sufferers, should have been exposed as a cheat.
The debate as to the ethics of using ill-gotten gains for a good cause will rage on, long after the Armstrong affair has receded into the past but one cannot help hoping that Armstrong will come to the eventual realisation, possibly a cathartic one, that true redemption and forgiveness can come only when he selflessly donates all his cycling winnings to his Livestrong foundation and begins his life afresh by earning an honest living. That is "how the fallen become mighty".

Alan Goldman is the senior analyst to Goldman Henry Capital Management, an Auckland-based fund management company.