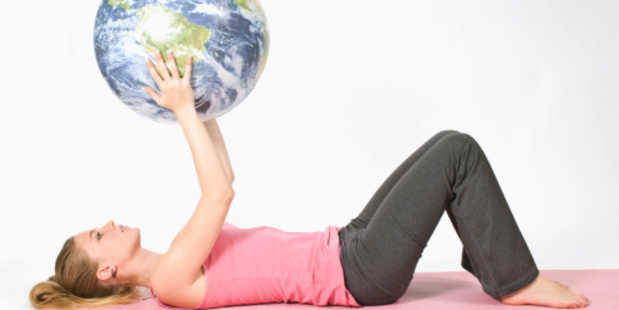 The world is more or less about to collapse, just FYI. Too hot, too many people, too much consumption - if the entire world consumed at the same level as Americans, for instance, we'd need five extra Earths. FIVE!!!
As it is, we could already do with an extra half-Earth. Nice one, humans.
But some humans are on the case, thank goodness. While we're busy hoovering up natural resources and breeding like oblivious field mice, they're thinking hard about how we got into this mess and how to get out of it.
Two of those people are renowned Stanford biologists Paul and Anne Ehrlich, who say overpopulation and overconsumption by the wealthy are hurtling us into the cold arms of nothingness.
According to the UN, the world's population is projected to reach 9.6 billion by 2050. And "The next 2.5 billion people will do much more damage than the 2.5 billion added since the 1970s," says Prof Paul Ehrlich, "because people use the richest, most easily extracted resources first."
But it's not all gloom. In their recent report - Can a collapse of global civilization be avoided? - the savvy husband/wife duo has also laid out a roadmap of steps needed to put the brakes on imminent destruction.
They say that while it's hoped that improvements in technology, like better agricultural practices and smarter energy solutions, will help meet the demands of future generations, "you can't save the world on hope alone."
A more effective solution is to humanely lower the world's projected birthrate and population by one billion. ("Anything less is threatening the lives of our grandchildren.") Then work from there on better managing the world's resources.
How? LADIES! LADIES ARE THE KEY! Or rather, making sure women everywhere have absolute equality. Because, says Prof Paul Ehrlich:
"This will allow us to include more of their brainpower to help solve these problems. And studies have shown that when women are given full rights, they have fewer children, which will help slow birth rates.
"We also need to give every sexually active human free access to modern contraception and emergency abortion."
We already know empowering women makes good economic sense. But (almost needless to say) it's a daunting task. "After all," note the pair, "there is not a single nation where women are truly treated as equal to men."
Still, the Ehrlichs - whose report cites 78 articles by scientists across several disciplines and was "reviewed by a panel of renowned biologists and social scientists" - seem to have a smidgeon of faith in humans:
"Modern society has shown some capacity to deal with long-term threats," they write, "at least if they are obvious or continuously brought to attention."
Follow Rebecca Kamm on Twitter.