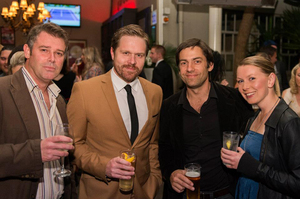 One of the first events I attended sober as an ambassador for Hello Sunday Morning was a wrap party. Of all things.
As the alcohol is always free and plentiful, and it's been a very hard eight weeks, everyone is typically inebriated hours before the event actually starts.
As I was sober this time, I was lucky enough to be a spectator to some of the drama and not be involved - such as the director telling the actors that they aren't as good as they think they are; an art director telling a writer they couldn't write their way out of a paper bag; or the boom operator trying it on with the hot makeup artist.
It's all fun and games until someone loses an eye ...
The minute I walked into the party, there's a shot lined up for me. "Mate, not drinking tonight," I try to explain to the director of photography, who laughs and orders me a beer as a chaser.
Maybe I should have made a public announcement earlier.
It was so hard trying to explain and remind people that the poor tree in the courtyard ended up thoroughly watered with booze.
I hope alcohol doesn't affect trees as badly as it can affect people.
Being sober for the formalities didn't necessarily mean I would hear the speeches. A small drunk person managed to dismantle the sound system right before kick off.
However the night was still a hit. We have a disgruntled writer, a broken sound system, an offended actor, a little fella in a coma, an abused director, a happy makeup artist and I'm sober.
Success!
Cheers (without beers), Will