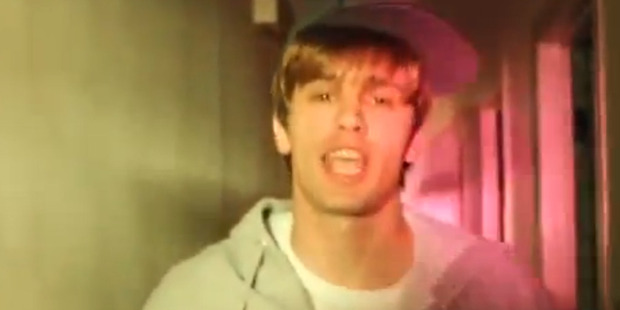 James Franco. Decked out in a baggy hoodie. Rocking Justin Bieber's trademark bangs and baseball cap, while lip-synching to the teen titan's hit track Boyfriend.
Sure, why not. As for why? You'll have to ask Franco.
Franco, 34, posted a mock video of himself mimicking the Biebs to his WhoSay account yesterday. It was quickly deleted, the Daily Mail reports. But not before a beady-eyed viewer nabbed it and preserved it elsewhere online.
Spring Breakers star Franco hams it up for the camera in the homemade clip, miming the lyrics to Boyfriend, while walking down a dimly lit corridor.
Also making an appearance is Franco's Spring Breakers co-star and rumoured girlfriend Ashley Benson, 23, who dons a dark-haired wig.
Last year Franco denied rumours he was dating Benson as well as fellow co-star Gomez and Kristen Stewart.
"I also hear that I've been dating Selena Gomez, Kristen Stewart and Ashley Benson," he wrote in his Huffington Post column.
"Hot damn, am I a lucky guy. I wish I had actually gotten closer than the 13th row of the theater in Toronto where Kristen gave her On the Road Q and A, but I didn't. Not only did I not talk to her, I didn't even go to SoHo House where I supposedly asked her out on a date."
He added: "As for Gomez and Benson, those are Bieber's girls and I wouldn't dare tangle with the Biebs. I heard he wants to kick my ass. Yikes!"
Check out the (slightly suggestive in parts) video below. It's the weirdest thing you'll see all day:
FAST GOSSIP
And finally...
* Oprah Winfrey scores sit down interview with Lance Armstrong.
* Miley Cyrus climbs into bed with Harry Styles. Relax, it's only a cardboard cut out.
* Country star Miranda Lambert slams Chris Brown again.
* Django Unchained action figures spark more racial outrage.
* Lindsay Lohan takes on iconic Marilyn Monroe pose for InAPPropriate Comedy.
* Mariah Carey still banging on about Nicki Minaj feud.
* Michael Bay teases plot of Transformers 4, new trilogy confirmed.
* Hangover director Todd Phillips gets restraining order against alleged onetime fling.
* Steven Spielberg reveals Lincoln rejection letter from Daniel Day-Lewis.
* Matthew McConaughey thinks changing nappies is beneath him.
Follow Myrddin Gwynedd on Twitter.
- Rumour Has It