Sales surge proves trying and buying at the store holds sway over online buying as consumers spend up big the traditional way.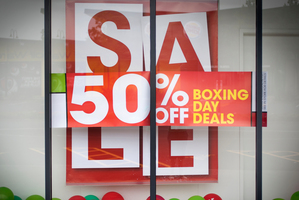 Times have been tough for retailers. Not only have they struggled for several years in the face of a glum economy but they are being assailed by online shopping. There have been many casualties, and some of those still operating are under a high degree of stress.
This week, however, showed why it is premature to talk of the imminent death of traditional retailing.
Full carparks, queues and crowds of bargain hunters at the country's big malls and shopping centres on Boxing Day, in particular, underlined the ongoing magnetism of this brand of shopping.
It may be premature to read too much into the Boxing Day fever.
The fact that the weather was far more suitable for a day at the mall than at the beach played a part. So did the effect of people who had been holding out for sales bargains.
Certainly, the 13 per cent surge in Boxing Day spending, as recorded by Paymark, ran counter to the most recent retailing sale statistics, which revealed a 0.8 per cent fall in value in the September quarter.
Any satisfaction at the Boxing Day figures also must carry a caveat. Some of the persuasive sales offerings that attracted shoppers were, unfortunately, the product of individual retailers' dire circumstances.
Nonetheless, something appears to be happening when lines of eager shoppers are waiting for the doors to open at 9am, and and when latecomers are happy to circle carparks for up to an hour before finding an empty spot.
Could it be that consumer confidence is finally bouncing back, as indicated by a Westpac McDermott survey published this month.
It found that households have become more optimistic, and that their assessment of their current financial situation is the best it has been for five years. This, along with electronic card transactions data, suggested the September sales figures may have been a hiccup.
Either way, confidence is always fickle. More information will be needed to that confirm a corner has been turned.
But what is inarguable about the Boxing Day crowds is the enduring appeal of traditional shopping.
New Zealand's retailers' association has spent the past couple of years saying this is on the wane. Inevitably, that will lead to job losses, it has claimed in an effort to cajole the Government into taking action against online shopping by imposing GST on all goods bought privately overseas, excluding gifts.
That is an impractical suggestion because of the difficulty of collecting GST easily and efficiently.
The crowds that have flocked to shops this week also show why it is unnecessary.
Some among that number may have tried on clothes or tested products and then gone home and ordered them, perhaps at a cheaper price, on the internet.
But far more were happy to see and touch items - then buy them.
Doubtless, they also enjoyed the social interaction and took comfort in the fact that their purchases were covered by the Consumer Guarantees Act.
There would be immediate recourse if something went wrong. That is something denied to those who buy online.
Suggestions that traditional shopping is on its last legs have clearly been greatly exaggerated. Some retailers have failed to survive years of grim economic tidings. Others may fall before prosperity returns.
But the Boxing Day turnout shows the attraction of bricks-and-mortar shopping remains strong.