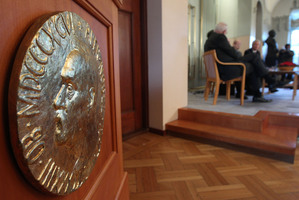 Leaders of the European Union are in Oslo, desperate for a touch of Nobel magic to dispel the satanic clouds hanging over the European project.
At a glittering ceremony today attended by dozens of heads of state and government, a trio of men symbolising the main EU institutions were to accept the 2012 Nobel Peace Prize, awarded to the bloc for having transformed "a continent of war into a continent of peace".
Few will dispute the accolade.
Half a century ago, a much-derided scheme to end trade tariffs and protectionism brought France and Germany, which had fought three wars in 70 years, into a suspicious but peaceful partnership.
Bit by bit, it cemented into a full-flown alliance, supported by cultural exchange and inter-marriages, that made further conflicts unthinkable. Post-dictatorship Spain, Greece and Portugal joined the club.
Then, after the collapse of the Soviet Union in 1991, the EU quietly ushered in the former Soviet satellite states, anchoring them to a pole of stability and prosperity.
But talking of the glory days is not a popular thing in Europe right now.
The EU is going through a truly horrible year as its 27 nations wrangle over budget deficits and aid for debt-stricken economies at a time of mass unemployment among the young and decision-making gridlock.
To many ordinary Europeans, Brussels is more and more synonymous with grey bureaucrats, and the three men who will be on the Nobel podium - European President Herman van Rompuy, Commission chief Jose Manuel Barroso and European Parliament head Martin Schulz - are simply a bunch of unknowns.
"The current crisis and the threat of financial collapse of some member states have triggered a fierce debate about the economic, social and political finality of the union," says Steven Blockmans at the Centre for European Policy Studies think-tank, who predicts further expansion of the EU is off the table.
There will be no chance to savour the champagne moment in Oslo. On Friday and Saturday, government chiefs muster for another summit - their 26th in three years - where they will tackle plans for a banking union and a report for overhauling the eurozone, both explosive issues.
European summits have become "grand guignol," a pantomime where the interest lies in how an ancient, familiar tale is performed.
Eurosceptics look to finger-wagging by Germany's Angela Merkel about feckless over-spending by the Club Med countries of southern Europe. To posturing by Britain's David Cameron, playing to the EU-haters back home. To a slathering of euro-fudge from French President Francois Hollande, as rich in rhetoric as he is poor in cash. And to embarrassed silence from Italy, where the chaos is so profound that even Silvio Berlusconi has hopes of a comeback.
Panto tradition also dictates that after grinding all-night talks, the leaders will announce they have a deal. Pasty-faced with exhaustion, they will hold press conferences to declare the outcome is good for Europe and good for their nation. After they have declared victory and gone home, closer inspection will reveal the deal to be as holey as a chunk of Emmenthal cheese.
Next July 1, Croatia will join the EU as its 28th member. But its accession was long-scheduled, and further expansion to other countries is out of the question for now, says Blockmans.
The reason lies not just with "enlargement fatigue" after membership leaped from 15 to 27 within a few years, he argues. It's also a growing disenchantment with the EU vision itself.
"With the picture of the EU as a latter-day Eldorado fading, political leaders of these countries are asking themselves what they are getting themselves into. Some have even declared the Union's current woes 'the end of the EU dream'."
The crisis, say analysts, has exposed a core dilemma: how to have economic integration, with a strong central governance in Brussels, yet balance this arrangement with national sovereignty and oversight by the European Parliament.
"Europe faces the same sort of challenge it faced on birth," contends Jean-Dominique Giuliani, head of the Robert Schuman Foundation, named after one of the EU's founding fathers.
Tanja Boerzel, director of the Centre for European Integration at Berlin's Free University, argues the picture is not as bleak as many contend.
"It is quite amazing how well the EU has faced the crisis this far. If you go to Asia, for instance, the perception of the euro currently is not half as negative as in a lot of the European and American media.," she says. "But we are facing a wider problem, and because we are under such pressure, we don't have much time to think how to tackle it."