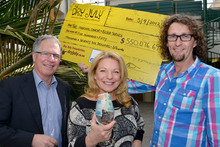 This week I had the absolute privilege of handing over a cheque to two Richards - Dr Richard Frith, chair of the A+ Trust, and Dr Richard Sullivan, the clinical director at the Northern Regional Cancer and Blood Services.
You may remember I wrote about Dry July a few months ago - abstaining from the drink and being sponsored to do so by sceptical family and friends - with the money raised going to support people being treated for cancer at Auckland Hospital.
The fundraising was successful beyond anybody's wildest dreams.
Exactly 2097 people signed up for the month and collectively we raised $550,076.69 - an astonishing effort when people are being hit up all the time for various worthy causes.
Special mention must go to the top individual Dry Julyer. Tony Gorton strong-armed friends, clients and colleagues into forking out more than $10,000 to sponsor him as he went dry for July.
But every little bit helped and I want to thank those anonymous donors who donated to me after reading about the fundraiser in the Herald on Sunday.
Cancer will affect most families in this country so it's good to think between us we're going to make life just a little more bearable for people going through a pretty tough time.