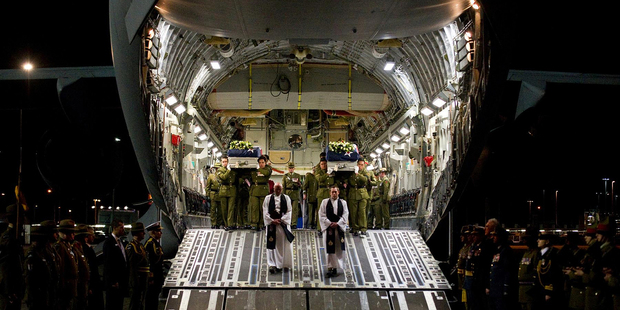 Lance Corporals Pralli Durrer and Rory Malone were killed in Afghanistan earlier this month. Photo / NZDF
For most of the more than 10 years of conflict in Afghanistan, Bamiyan province has escaped the worst of the fighting. New Zealand's Provincial Reconstruction Team has been able to go about its work quietly and efficiently, and New Zealand has not endured a casualty rate comparable to that of many other members of the International Security Assistance Force. Suddenly, however, all that has changed. The deaths of Lance Corporal Jacinda Baker, Private Richard Harris and Corporal Luke Tamatea when their patrol vehicle hit an improvised explosive device in Bamiyan has brought the number of New Zealand soldiers killed in Afghanistan to 10. Soberingly, the trio died only a fortnight after Lance Corporals Pralli Durrer and Rory Malone were killed in a gunfight in the same province.
Obviously, Bamiyan has become a much more dangerous place. The reasons for this are disputed. Some point to a surge in Taleban activity throughout Afghanistan, encouraged by a perceived weakness in the international force's resolve, as indicated by France's decision to withdraw earlier than planned at the end of this year.
But it seems apparent that specific features underlie the greater insurgency threat in Bamiyan. After the deadly fight two weeks ago, the Prime Minister pointed to a security gap left by Hungarian troops in neighbouring Baghlan province. Our troops were, he indicated, under pressure because the Hungarian Provincial Reconstruction Team's rules of engagement did not allow the sort of intensive patrolling that would keep insurgents on the hop.
John Key's view angered the Hungarians. Tellingly, however, their Defence Ministry noted that "it is not the Hungarian PRT's duty to uproot the Taleban nests in the region". But the reasons for the increasingly porous security situation in northeast Bamiyan are not the most significant matter. More important still is an acknowledgment of its reality, and that further New Zealand lives could be lost if the situation is not rectified.
One response has been to call for the Bamiyan team to be brought home as soon as possible. Proponents of this say its presence is achieving nothing, and that keeping it in Afghanistan until its scheduled return some time next year means more soldiers will be killed for no reason. That, however, is not a perspective likely to be widely held in the Defence Force.
Overwhelmingly, soldiers surely want the risk of further casualties to be addressed through the dispatch of reinforcements. If, for whatever reason, there is a heightened threat, New Zealand forces should have the manpower and resources to sort it out.
The Defence Force is already planning to extend its patrols beyond the border of Bamiyan province, partly to fill the gap left by Hungarian troops. Clearly, the New Zealand troops wish to seize the initiative. The danger now is that they could become over-stretched. The Government should, therefore, be looking at a short-term escalation of troop numbers in Bamiyan, so the Provincial Reconstruction Team has the wherewithal to finish its work while, at the same time, guarding against further casualties.
This, not an unseemly scramble to get out of Afghanistan, would be the best way to manage the "orderly transition" spoken of yesterday by Labour's foreign affairs spokesman, Phil Goff. Contrary to his assertion, any early removal of troops would be seen as "cutting and running", which would win this country no admirers.
Whatever the doubts about the future of Afghanistan after the international force's withdrawal, New Zealand should not now undo much of the good work that has been achieved.
Our troops should be able to complete their mission as comprehensively and as safely as possible.