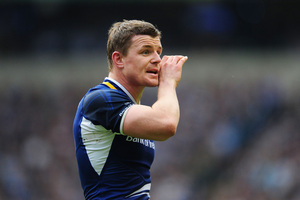 The All Blacks play Ireland next week and Gregor Paul documents how Ireland's bet chance will be in Saturday's first test, how similar cold-starting All Blacks have succumbed or nearly so in similar first test 'testers' and the likely All Black 22 for that match.
The first test of the series has historically been Ireland's place to pounce and the All Blacks had best prepare to encounter a fire and brimstone performance at Eden Park this week.
The Irish will pack everything they have into those first 80 minutes and then settle for damage limitation in the rest of the series. Whatever they say, however much they talk about being here to win the series, all they care about is achieving a solitary victory. That will make them happy. That will end their suffering. That will be the highlight of many, probably all, of their players' careers.
The Irish are too canny to get caught up thinking that targeting one victory lacks ambition. They are realists and know they have just once chance to catch the All Blacks cold; New Zealand will get progressively better because they always do, while the Irish know that once, the inevitable injuries emerge, they don't have the depth to be contenders later in the series.
It's a notion grounded in logic, common sense and history. Ireland came close to famous first test victories in 1992 and 2002. The 10-year pattern won't have escaped their notice and 2012 will be the year they fancy they can finally beat the All Blacks.
There's no real rocket science to the theory they will pick the best team they can and then throw the kitchen sink at the All Blacks. It's what's worked, almost, in the past. In 1992, the Irish lost 24-21 in Dunedin after playing most of the rugby in the first 60 minutes. In 2002, it was 15-6 and Ireland were in it until Leon MacDonald's try with about 10 minutes remaining.
Ireland were then hammered in the second tests (59-6 in 1992 and 40-8 in 2002). The pattern was similar, if not quite so emphatic, in 2006 when the Irish had a sniff in the first test-again falling late, this time to a Troy Flavell try. They weren't beaten so emphatically in the second test that year but were put away 27-17 with little drama. The All Blacks often don't start particularly well in any given year. The last two June defeats in 2009 and 2003 were both inflicted in their first test of the campaign.
A slow start has to be on the cards again. The landscape for the All Blacks is unfamiliar - never before have they broken for test action in the midst of Super Rugby. It is unprecedented for the entire squad to be involved in full-blooded combat just seven days before the first test of the year. For the Hurricanes' contingent, the turnaround will be exceptionally tight, as they were in Sydney last night and won't reach Auckland until later today.
Preparation time, even considering the two training camps, is unusually short and there have been issues in the past with players, despite having a longer period to adjust, being slow to leave behind the bonus-point, pass-and-giggle culture of Super Rugby.
In stark contrast, the Irish assembled on May 24, played and lost to the Barbarians 29- 28 in their tour warm-up, and arrived in New Zealand on Friday. Not much note can be taken of pre-tour matches like the one against the Barbarians; the Irish are battle hardened anyway-with Leinster and Ulster having reached the Heineken Cup final. Above all else, this is a good Irish side, one capable of playing flowing, creative rugby that will be supported by some clout at the collisions.
At the core of their squad are familiar names - Donncha O'Callaghan, Jamie Heaslip, Sean O'Brien, Johnny Sexton, Gordon D'Arcy, Brian O'Driscoll and Rob Kearney. Veteran lock Paul O'Connell will join them if his knee comes good after surgery and there is enough experience, mobility, aggression, ability and desire in that group for them to be a
serious threat.
But Ireland have an increasing vulnerability - their tight five can be inconsistent and frail. They circumnavigated that at the World Cup by using an aggressive, driving defence that picked defenders up and shoved them back, more often than not making the breakdown the crucial contestable area. Their back row was world class in that regard and even the late withdrawal of blindside Stephen Ferris shouldn't prevent them from being troublesome at the tackled ball.
The danger, though, is they can be easily suffocated at the set-piece and, as was evidenced in the Six Nations, if they can be shut down there, they can mentally and physically collapse. England put them away with a thump in the final game of the tournament - crushing their scrum to the extent that the Irish immediately advertised for a specialist coach in that area. England squeezed them hard and there were even fears for replacement prop Tom Court's safety.
"Tom Court came on and went valiantly, but our balance was off," coach Declan Kidney said after the match. "That was always on the cards because we have guys who don't have huge tighthead experience playing for Ireland at the moment. It's something we'll have to work on and bring more Irish guys through."
Ireland know they might be able to protect their set piece once but to think the All Blacks won't analyse and adapt their game plan during the series would be naive.
There is one last barrier for the Irish to clear. They have demons that have gripped them in the past. It is one of rugby's more perplexing statistics that in more than 100 years, Ireland have never beaten New Zealand. That galling fact has weighed heavily on the Irish
whenever they have been pressing for a win. Conversely, the fear of defeat has been inspiring for the All Blacks.
Cometh the hour and all that and New Zealand have pulled several rabbits out of the hat. One of the more memorable escapes was in 2001, when the All Blacks trailed 24-7 after the break and were shell-shocked, struggling with the noise and passion of the Dublin crowd. Then something clicked, Jonah Lomu came to life and in 20 minutes the All Blacks scored five tries to cruise home 40-29.
The Irish have some volume of hard luck stories, which is why O'Driscoll, who has been part of many of the so-nearly moments, was so determined to keep playing test rugby after suffering a serious shoulder injury shortly after the World Cup. The Irish media were speculating madly that he would retire . . . no chance.
"The great thing is that there's always a carrot [World Cup, now a first ever All Blacks scalp] there," he said in announcing his plans to play until 2013. "I know it's a threetest tour down in New Zealand, which is no easy feat, but to be able to go down and hopefully do something that an Irish team hasn't done before excites me and it excites other guys."