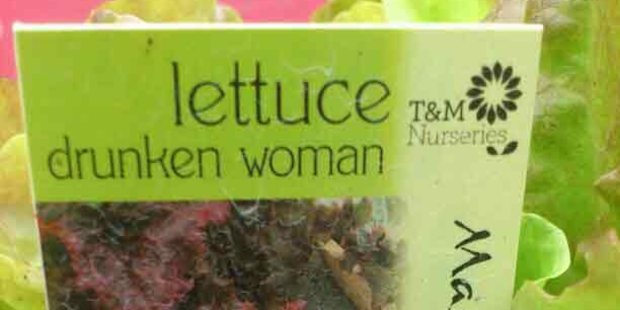 Strange name for a lettuce ... "does it have a soporific effect on women?" wonders Caroline.
Golf newbie tees off mates
Colin writes: "It was my father-in-law's first time playing golf with his buddies... out they went, whacking golf balls around the course like seasoned pros. His buddies couldn't believe how easily he had picked up the game and how, for a first timer, he had managed to keep up score-wise. This changed very quickly when they saw that my father-in-law, who was taking his third shot on to the green, was placing a tee under the golf ball!"
Fist pumper glued to task
An Ohio man has set a world record for fist pumping. James Peterson, 34, pumped his fist for 16 straight hours, using super glue to "ensure I maintain perfect fist formation". A camera crew followed him around his hometown of Akron. He finished the ordeal at 3am, at a pub. He describes himself as a "veteran fist pumper" having completed a similar, undocumented marathon on St Patrick's Day.
"I used to hang light fixtures, so I am used to having my hands above my head," he explains. (Source: Newser.com)
Cliches that grate
1. "It's not a good look", grates with one reader, who says it implies the behaviour would be acceptable if no one could see it.
2. Another is tired of people who use business language outside of business, for example, without any trace of irony, "family logistics". Leave business talk at work.
3. "I used to own a great dane," says a reader. "Every day without fail someone would exclaim 'that's not a dog, it's a horse!' or 'where's the saddle?' But the most annoying line was 'who's walking who?' when it was pretty plain my dog would have rather stayed in his cosy bed than followed me grudgingly on our daily walks."
4. "HR departments have to take personal accountability for introducing many cliches we have to endure today in the workplace," says another reader. "At my company I am constantly reminded about quick wins, building momentum, engaging all stakeholders, flying below the radar, gaining traction, shifting big rocks, aligning people's behaviours and having robust and transparent processes in place."
5. Brian's pet peeve is when people use common sayings but get them wrong. "I have a co-worker who always says, 'for all intensive purposes', and another who will loudly declare something a 'mute point'."
6. A reader, who used to work in a Lotto shop, writes: "Trust me; having to hear, 'lucky dip please, make it the winning one' got old very fast."