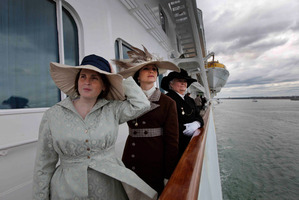 The sense of duty to help the vulnerable, evident on the Titanic, has jumped ship.
Apparently, the MS Balmoral will be on the exact spot in the Atlantic where an iceberg struck the Titanic. And there'll be a service on the Balmoral, with a band, on the spot, precisely 100 years after that collision, to commemorate the disaster it caused.
At least, that's the plan. Although it may not come to pass. While the Balmoral surely looks as grand to us as its predecessor would have at the dawn of the 20th century, it's not as fast. So our vessel will need to steam full speed ahead if it is to reach the fateful site on time. And even if it does make maximum knots, it may still not arrive at the appointed hour.
Things have happened, you see, on this commemorative voyage. There were delays at one port of call. Then a passenger fell ill and the Balmoral had to turn round and go back to Southampton so the ailing traveller could be taken ashore.
The superstitious will see a sinister portent here. They will conclude that Poseidon and co are not amused and intend to wreak havoc on those who choose to revisit past disasters. "Do not tempt fate," the superstitious will say. "Turn back while you can."
But no one is. The 1309 people aboard the Balmoral - 50 of whom are related to Titanic passengers - aren't jumping ship or trying to sell their $7327 tickets on Trade Me. (And the ones in steerage aren't trying to sell their $3241 tickets either.) No, everybody seems quite tickety boo; convinced, like those who sailed before them, that all will be well. Human optimism will always trump brute nature, thank goodness - that's why we're rebuilding Christchurch. Or taking this cruise.
Certainly, those doing so seem to be in fine fettle. The photographs we've seen show a cruiseload of folk in the highest of spirits, most dressed as they imagine the toffs of 1912 would have been. Boas and grand feathered hats, furs and canes, bowlers and white waistcoats appear de rigueur for those aboard the Balmoral.
While some have opted to dress as crew members or like Leonardo DiCaprio in steerage, looking swell is the preferred option. Just as it is when we discover we've got a reincarnation in our button hole and decide to explore the thrilling character of our past lives. Without exception, those who guide the gullible through such journeys discover their clients have been kings or queens or voluptuous courtesans in marbled halls or fearless knights, undefeated in battle.
We're never told we were plumbers in Dargaville or lowly fletchers, out the back in a tent at Agincourt, fiddling with our arrows while Henry and his chums were busy shafting the French. Savvy fortune tellers value their fees too much to reveal such tediums. When we revisit the past, we tend to prefer the posh version.
So the ladies on the Balmoral favour the Unsinkable Molly Brown look - velvet opulence, befitting the wife of a silver miner. And the chaps have chosen to be Col. John Jacob Astor IV (nicknamed 'Jack-Ass' by the press) who'd sailed on the Titanic with his pregnant teenage bride but did not join her in a lifeboat reserved for women and children.
Or, if not Astor, then Benjamin Guggenheim - who took the trip with his mistress - and, having bade her farewell, returned to his cabin with his loyal manservant, to don an evening suit and die like a gentleman. As did his manservant, though not in a suit.
Which leads us, as unerringly as an iceberg, to the other vessel in the news this week. A yacht, un-named, with but ten souls on board, and none in costume - at least not the costume of another age. On this boat, everyone was dressed as steerage passengers, or refugees, which many below decks on the Titanic effectively were.
Because refugees is what they were, these ten voyagers, who'd sailed from Malaysia to Darwin and planned to sail to New Zealand where they hoped to escape the persecution Falun Gong followers encounter in China.
They won't, as it happens. Their journey will end in Darwin, where they've been persuaded not to risk a trip across the treacherous Tasman. And perhaps just as well, for even if they'd survived rogue waves and icebergs, they'd have been lashed by their welcome ashore.
For it would not have been warm, at least if talkback is any guide. When the matter was broached, reaction to the possible arrival of these ten refugees was vehement. "Sod off, sink them, send them back, women and children last, and the same for the men!" - that was pretty much it.
No band would have played. Though there may have been one throwing rocks. In this time, in this place, regarding this voyage, there is no evident sense of obligation - as there was on the Titanic - and no accepted duty, either, to cede a space for those more vulnerable. Perhaps much more than a ship has sunk without trace in thepast 100 years.