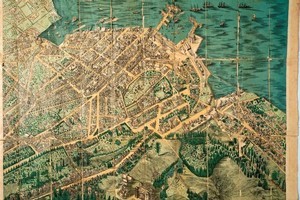 Auckland Museum's 1885-6 map of Auckland shows how reclamation has transformed the downtown coastline.
Murals as landmarks can be as powerful as bridges and buildings. Graffiti artist Askew
New Year is a good time to daydream about the future while walking along a beach. So: if you were Mayor of Auckland - this is fantasy Auckland, OK, with a happy port and fat coffers - what would you want the city to look like? If you come up with something good, maybe you can tell the rest of us at Pecha Kucha; an Auckland-themed presentation evening planned for late February.
It's easy to be cynical about our seemingly unplanned, bottlenecked isthmus hodge-podge, but such imaginings are sometimes transformed into urban reality, as shown by the Auckland Museum's compact, absorbing You Are Here: Mapping Auckland exhibition.
For example, the decades-long reclamation which transformed the downtown coastline is charted in a clever animation.
The animation is also online, but I'd recommend going to the entire free exhibition to see the various ways the city can be sliced and diced, politically, socially and geologically.
And as exhibition-goers, we can make our own mark by adding stories and ideas to a digital map until the exhibition closes in August.
Elsewhere in the city, someone with a particular vision for Auckland is the graffiti artist Askew, aka Elliot O'Donnell. Askew, you may recall, was the lead artist for the legitimate Poynton Tce mural which was destroyed by council workers last February. Commendably, last August, the Auckland Council withdrew its call for replacement mural submissions and finally gave an agreed amount of $10,440 compensation to the artists, who donated the entire amount to charity, mostly to Christchurch earthquake appeals.
The wall itself is still an eyesore but Askew says he will contact the landlords (soon, please!) and hopefully they will agree to his crew painting a replacement themselves.
Meanwhile, Askew's bigger vision is to turn Auckland into "the mural capital of the world". The aim is not to make Auckland into an extra-large version of historic mural town Katikati - God forbid - but more like the street art and graffiti-based Wynwood Walls Project in Miami, where dozens of international artists have turned a rundown warehouse neighbourhood into an outdoor art space which now attracts visitors the world over.
Askew - who was on a Fountainhead artist residency in Miami last year - envisions "bold, subversive" works of art for Auckland, including painted figures eight storeys high peering over the tops of smaller buildings. A possible start might be a weekend festival built around painting giant art somewhere such as Onehunga or Karangahape Rd.
Askew presents graffiti art as making sense not on its own, but as part of a landscape.
"Murals as landmarks can be as powerful as bridges and buildings," he says. "Our daily activities can revolve around them; [you can imagine someone saying] 'I'll meet you by the giant man'."
Turning this literally "big picture" dream into reality won't be easy. Territorial jealousies abound between graffiti artists, and trust would have to grow enormously between artists, the council, the public and building owners for them to co-operate.
Who decides what goes where is a massive question. Money and organisation would be needed.
In the meantime, walls keep turning monochrome - last month Wilson Parking painted out two Upper Symonds St walls, which had been colourful and changing for 13 years, with a mucky diarrhoea colour.
But optimism reigns. Next month Askew has a meeting with Mayor Len Brown, to persuade him that murals are a great idea - which they are.
And one day - who knows? - the museum might display maps of the Iconic Murals of Auckland.
www.aucklandmuseum.com/1632/