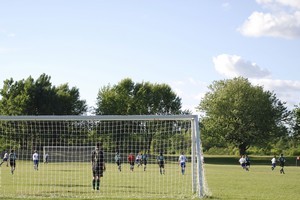 The Labour Party has certainly chosen an opportune time to release its sports and recreation policy. In a country enthralled by the final stages of the Rugby World Cup, anything that might help to produce more great All Blacks or Olympic champions is guaranteed to garner attention.
Labour's prescription is for every secondary school to provide weekly study-free afternoons for pupils to play sport. "Kiwis," says party spokesman Trevor Mallard, "need to return to their sporting traditions to improve the health and wellbeing of New Zealand."
This points to the policy's twin aims. It wants not only to foster leading sportsmen and women but to address obesity by involving every pupil in physical activity. To that extent, it is a continuation of much of the work done by the previous Labour Administration. Its initiatives included a taskforce led by John Graham, which looked at everything from a lack of coaches, volunteers, facilities and international sporting success to a need for more activities for overweight and elderly people.
This led to the establishment of Sport and Recreation New Zealand (Sparc) and, later, an edict to primary schools to provide at least an hour a week of physical activity. It was important, said Mr Mallard, then the Education Minister, "that young people understand the benefits of regular physical activity and develop their skills if we are to have a healthier and more active society".
At that time, the Labour Government steered clear of imposing any such demand on secondary schools. Sparc, however, became active in this area through an Active School programme, which encouraged schools, clubs and community organisations to work together to promote physical activity.
Mr Mallard now wants clubs to be even more involved with schools for what he foresees as a compulsory afternoon of midweek sport for every secondary school pupil.
"I'm not saying everyone should play rugby, but [there would be] encouragement - unless there are medical reasons - of some sort of club-type activity," he says. "It wouldn't be that everyone just gets off school early."
This statement, in itself, illustrates many of the potential problems of Labour's policy. Encouraging children to exercise regularly is absolutely the right thing to do given the extent of the obesity problem. Research shows that, while some youngsters clearly eat too much fatty food, the calorie intake of children has barely altered in the past two decades. What has changed markedly is the amount of physical activity.
The good thing for anyone wanting to increase this level is that most children have a natural inclination to be active. But many also jib at compulsion in any shape or form. If this were part of the package, nothing would be more certain than that many pupils would find ways to skive. Bogus medical ailments would abound, and there would be increased interest in club-style activities that involved a minimum of exercise. In effect, there would be an afternoon off school for too many pupils.
The best approach would, therefore, be to underline and reinforce the work already being done by Sparc. Youngsters need to be encouraged to continue playing sport when they progress from primary to secondary school and when they enter the workforce. Closer contact and co-operation between schools, clubs and community groups can help ensure that this happens.
But not every child wants to be an All Black or an Olympic gold medallist. They need encouragement to do exercise that suits them and to do it at their own pace and in their own time, not be deterred by the scourge of compulsion.