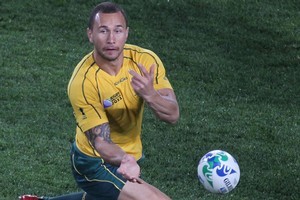 There's a joke doing the rounds on the internet - a cartoon, actually - which rather typifies the real banter which exists between New Zealand and Australian sporting fans.
It shows a wee dog (I don't know why it's a dog, it's a cartoon ... ) who goes to the doctor complaining that his nether regions are producing a disturbing noise; a song. The patient reveals the offending part to the doctor and the viewer can see the doctor listening to the strains of Waltzing Matilda, Waltzing Matilda emerging from the visitor's fundament.
"That's OK," says the doctor. "A lot of a***holes sing that song."
Before someone vengefully attempts to stuff an angry goanna down my trousers, let me hasten to add that this good-humoured stuff is what normally sustains the bitter-sweet; friendly-enemy; big and little brother relationship between the sporting masses of both countries. There has been a woeful amount of psycho-analysis, breast-beating and free coffee for wounded Australians after some Kiwi patrons dressed up as Irish and spat on Aussie fans after Ireland's upset win last weekend.
There's really only two things to say about that: 1) there are morons and drunken idiots everywhere, including right here in New Zild and 2) anyone who takes supporting a team (especially one not your own) that seriously needs a cup of tea, a lie-down and someone to help them look for their brain. Oh, look, there it is in that thimble.
But we shouldn't get all tormented soul about it. Sport is about tribalism and, if it occasionally gets out of hand, that sort of spitting nonsense is generally swallowed up by good clean fun, rivalry and humour.
You've also got to admit that Kiwis have copped it for years over the other side of the Tasman where (it must also be said) our Anzac brothers patiently accept the tide of disgruntled New Zealanders who want to live in the Lucky Country every year. That has given rise to some resentment and plenty of dole bludger jokes (some of them true, by the way ... ) and the good old sheep shagger jibes, born of the fact that your average Ocker doesn't quite understand maths. New Zealand, 47 million sheep. Australia, 120 million sheep - but who gets the sheep shagger jokes? You know - how do Kiwis practise safe sex? They put a cross on the ones who kick. That sort of thing.
There are plenty of tales of Aussie abuse of Kiwi fans too - I'm not sure about gobbing but I have personally witnessed some pretty obscene abuse and threatening physical behaviour towards New Zealanders at Australian sporting grounds.
New Zealanders have unfortunately taken a lead from the Australians when it comes to booing. I can remember being in Australia at a big cricket match between the two countries in the '80s when the phenomenon of Aussie fans booing Kiwi fielders when saving a boundary began. I hope I am not doing the Aussies a disservice. I had never heard the practice before and believe that it is where it grew up before leaving home and migrating to places like New Zealand (a fair deal re the dole bludgers ... ?).
I was horror struck. Why on earth would anyone boo the opposition for doing what they should be doing?
It's the same when opposition kickers take a shot at goal now - Kiwis boo just as heartily as their Australian brothers. As for those complete Kiwi dropkicks who boo when someone attempts a drop kick (a perfectly legitimate, nay, easy manner of scoring), well, when I hear that I might even think about spitting myself ...
We Kiwis can say Quade Cooper should keep his knees and his hands off Richie McCaw but, come on ... be honest, who isn't relishing that clash?
But what we are really talking about is the rise and rise of bad manners and a lack of couth in both societies these days. Underneath all that rivalry are two countries with a great deal in common; a shared heritage and a largely shared way of looking at the world (although not in all instances). We in New Zealand know that if we were ever, really, irretrievably in the poo, Australia would help us. Just as if they were in similar straits, we'd send them a few million sheep and Auckland's train system ... just kidding.
The bottom line is that we love to beat Australia (and to see them beaten) because we know how bloody good they are at sport. There's no satisfaction quite like that derived by beating the best. While the All Blacks are nominally the best in the world, few teams play them better than the Wallabies.
Our rivalry and tensions are also sparked by the fact - and I have said this for years - that the Australians are bad winners but good losers. We tend to be the other way round, shuffling our feet and going 'aw, shucks', when we win and setting fire to our hair when we lose.
The Aussies can be insufferable winners to a Kiwi's built-in modesty but they are terrific losers. They always learn something from their losses, apply it and beat you the next time.
If you want an object lesson in Australian ability to accept a loss, listen to new Wallaby skipper James Horwill after the Ireland test. For a masterclass in congratulating the opposition and ignoring their own deficiencies, it was reasoned, gentlemanly and the perfect response to all that spitting garbage.
I am reminded too, of the 2003 World Cup in Australia when Australian fans accepted the social, singing and drinking challenge laid down by the visiting Brits - an amiable clash of cultures that helped light up that RWC. There were excesses then, too, of course, but the overwhelming feature was of a Lucky Country inviting others to partake of the luck.
Personally, I would rather beat the Australians every time at every sport. They are that good. But I know, when all the rivalry and bitterness is past, they are still my cousins. I have had so much joy from visiting the country, making friends, visiting family, being helped by and helping Australian media folk over the years that there is no other way to think of them.
It was like when we were kids and I was beating my little brother at backyard cricket and my Mum yelled out the window: "Paul, let him win!" Would I, hell.
But, in the end, he was still my brother.