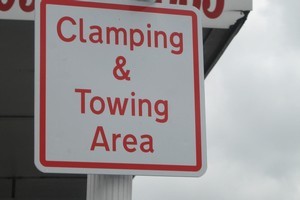 I have mentioned it many times: if you break the rules you should be aware of the ramifications. Ignorance of the rules is no defence - as I learned to my own dismay recently.
I don't often venture south across the bridge and, as such, am quite unaware of bus lanes, clearways and tow-away areas and other such revenue-gathering streams.
I parked in the city. When I went back to my car I found it had disappeared. I thought it had been stolen.
Then I noticed a couple of guys in official-looking jackets. I wandered over and asked had they seen a silver Toyota parked at the front of the bay.
Without so much as a blink, one of them turned to me and said he'd just had it towed away. My jaw dropped. "Why on earth did you do that?" I said. "I paid the money to park there and put a ticket on the dash."
He agreed I had done just that but the clearway towing time was 4pm and it was after 4pm. He pointed to a sign I had not bothered to read.
It was up there in black and white, stating that after 4pm parking was no longer allowed.
Thinking about it, though, I was only five to seven minutes late and why had my car been towed and not the others? His reply was quite simple, "Your car was at the front and that's where we start the towing from." My next query was: if I had turned up and my car was at the back of the towing zone, would I be okay to drive away? "Yes," he said. "But you'd still get a ticket." The ticket I wouldn't have minded. Having my car removed was annoying.

I realised that yelling at the messenger would achieve absolutely nothing.
I asked for directions on where my car had been removed to. I'd only gone a few paces when I realised the tow trucks must have been queuing before the 4pm deadline to be able to tow cars away on the chime of the hour.
Now that's an appalling thing to do. It's the law, I know, but a few minutes of grace would have been handy.

Walking down the hill on the final stretch to where the car was imprisoned, I was stunned to see a queue of tow trucks lined up trying to get into the building which housed the snatched vehicles.
If anyone wants to make a killing and get rich fast, set up a towing business and get a contract with the Auckland city-state.
Just when I didn't think things could get any more interesting, trying to get my car back was Kafkaesque in its surrealism.
First, I offered to pay the fine. But payment was refused. Instead I was given a ticket and told to pay within 28 days.
I then asked where the car was and they said they had no idea, but it was inside the hanger-like garage and did I know the registration?
I couldn't remember it and thought they should have it already as they did tow the damn thing away. At this point things were heading south in a big way.
I had to wander around the hanger, find my car and then report back with the number plate.
Then the questions started.
I refused to answer on principle and said I had the keys and could prove it was my car. Not good enough apparently. The manager came over and said I could be stealing the car.
I asked the bloke why on earth I would walk all the way from the top of Queen St, with a key in my pocket, offer to pay a fine after showing my driver's licence so that I could steal a car no respecting thief would be seen dead in? The conversation went around and around until I gave him all the information he wanted.
What made it all the more farcical was that I subtly changed most of it and he never checked it against my licence.
Eventually, I was able to leave in my car. On the way out, the queue of tow trucks loaded with cars waiting to get in hadn't diminished at all. Money for old rope, I reckon, if you're allowed to pay.