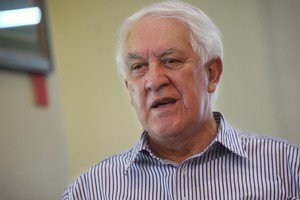 Sir Paul Reeves, who will be given a state funeral today, was one of those rare personalities in public life who was humble and yet larger than any position he held. When the Anglican Church made him its youngest bishop, at age 38, and first Maori to head a diocese, he told the Herald there were two sorts of bishop he would not be.
"I am not going to become a social pronouncer who makes naive comments about great social issues," he said, "I would sooner say something from the context of doing something." Secondly, he would not be a "prince bishop". He was not keen on ecclesiastical titles and formality, though he accepted them.
Many would say he was more successful in the second aim than the first. As Bishop of Waiapu, then Auckland, and even as Archbishop of New Zealand, he was ever willing to speak out on public issues and align himself with protest movements of the times. He reserved the right to speak and act as he believed, to the discomfit of many in the church, particularly when he put his name to the "Citizens for Rowling" campaign in 1975.
When the fourth Labour Government made him Governor-General in 1985, he made history not only as the first Maori in the position but the first cleric to be appointed the Queen's representative here. Questions of church and state separation were raised and resolved, not to everyone's satisfaction, by his resignation as primate, though he would remain a bishop.
The church's loss was the state's gain. Sir Paul largely held his tongue while the Government set about economic change. "I happen not to believe in the trickle-down theory," he told the Herald after a year in office. "I fear we are in the process of creating a stratified society."
Four years later, he called the market ungodly, telling a religious seminar: "The spirit of the market steals life from the vulnerable but the spirit of God gives life to all." But he recognised it was not his role to resist the many deregulatory orders-in-council put to him for his signature in those years.
He often praised the welfare state that had raised the son of a Wellington tram driver to his position, though it had left him with little appreciation of his Maori heritage. That came to him through a posting to a parish in Taranaki, territory of Te Atiawa, his mother's people. He became one of the Maori bishops who reorganised the church's ministry for Maori and had a part in its adoption of a bicultural constitution.
Later, in his state role, he opened Government House to Maori gatherings, putting mattresses on the floor marae-style, and sought to take the vice-regal office to people outside the clubs and social circles that it usually patronises. But even he faced protests at Waitangi, where he had once walked with the Land March.
His term ended 21 years ago but he remained in public life. He chaired Bougainville peace talks, was a member of the Commonwealth Observer Group at South Africa's first post-apartheid elections and headed a review of Fiji's constitution, prescribing an ill-fated system to preserve indigenous power.
In this country, he dealt with the genetic modification debate as the first chairman of the Bioethics Council, and was appointed to the selection panel for judges of the new Supreme Court. He disliked the description "former Governor-General" and never let his previous status inhibit him in public discussion.
He always offered his views with careful thought, honesty, goodwill and good humour. He was one of the more worthy recipients of our highest honour, membership of the Order of New Zealand. His passing leaves another gap in its ranks and a much larger gap in our national life.