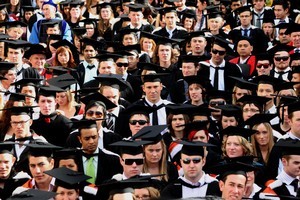 In theory, the principle of essentially open entry to university has its attractions. People are entitled to follow their wishes in matters of higher education unencumbered by bureaucratic restrictions. But the concept it is far from practical. University education takes a heavy toll on the taxpayer purse, and cannot be immune from the need to show value for money.
Equally, universities must maintain standards, a task that becomes a struggle when they cater for many students who are unprepared and ill-equipped to be there. It is, therefore, hardly unreasonable that it will soon become harder to gain university entrance,
From 2014, secondary school pupils will have to gain NCEA Level 3, meet stronger literacy requirements and achieve at a higher numeracy level. The list of approved subjects for Level 3 credits will also be changed. The new requirements, the result of a periodic review, will, according to the Qualifications Authority, have a "motivational effect and lift achievement".
This comprehensive raising of the bar has not been greeted with universal approval. Predictably enough, the Union of Students' Associations says that students who could have done very well at university will be shut out.
It estimates that if the changes had been in effect for this year, 985 first-year university students - 8 per cent of the intake - would not have been accepted. Those excluded, said the association, would include many students who did not do very well at secondary school but went on to excel at university.
Undoubtedly, that may be so in isolated cases. But, overwhelmingly, those who excelled at school would be the most likely to do well in tertiary education. University statistics would surely confirm that those who struggled more at school are more likely to be unable to cope with the scholastic demands of university, and have a higher drop-out rate. This process is a waste of the students' time and the taxpayers' money. Such people would have been better to enrol at one of the country's many polytechnics in the first place.
The Qualifications Authority is not alone in wanting to put quality before quantity. For the past few years, the University of Auckland has been intent on restricting the numbers admitted to undergraduate courses. Its ambition is to have more students pursuing higher degrees, an emphasis that increases its standing internationally and is certain to attract highly regarded academics to its staff. Inevitably, this has resulted in it being tagged "elitist". But the critics have never explained why aspiring to be world-class is such a bad thing.
A policy of making fewer places available to undergraduates automatically imposes a higher entry standard. Now, the Qualifications Authority has chosen a different way of achieving the same outcome. If there is a blemish to its approach, it is that it does not capture the "mature" students who seized upon open entry to attend university in great numbers. Another entry restriction must be employed, so that those who provide little or no value for the money spent on them can be vetted.
The principle of open entry was never realistic. The upshot of its relatively brief currency has been an excess of enrolments and an explosion in the number of courses.
Secondary school pupils, previously guaranteed a relatively easy path to university, will now have a far greater incentive to perform academically. Standards at the country's universities are bound to improve. That can only be good for the institutions and for those who will go there having proved they have the wherewithal to succeed.