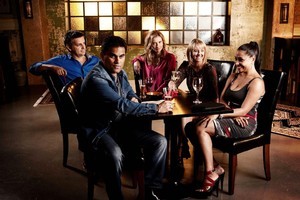 New Zealand drama hit a new high this week with last night's premiere of Nothing Trivial, the TV One showing starring local celebs as characters so real they could be your neighbours.
Meanwhile reality television has hit a new low with the premiere of MTV's Geordie Shore, the British spin-off of Jersey Shore, starring the busts and butts of boys and girls you never hope to find peering over the fence of your backyard. Same deal: a bunch of horny boys and girls are holed up in a house with plenty of alcohol, makeup and bedroom furniture. Grainy cameras capture the rest. It's the sort of viewing that makes you want to take a shower
and do a crossword. But, sigh, audiences have fallen for the lack of charm of a bunch of no-hopers, yet again. Oh how we love watching the "freaks" of society - and how we love watching them win. Bianca, one of the crowd favourites of New Zealand's Next Top Model (who's really more intelligent than she is freaky, but anyway), is just one example of how reality TV is raising the bar by uncovering more curious specimens than a David Attenborough documentary. And boy, do they sell.
The rich pickings of freak factor on TV2's latest American singing contest The Voice stole two entire hours from a whopping 356,400 Kiwis on Saturday night (so practically everyone in the country who had decided to have a night in). Despite having already screened in the States and the winner's name being splashed all over the internet, the Southern Hemisphere still wants to see Beverly McClellan, the 41-year-old lesbian from Florida, take on Frenchie Davis, the voluptuous 31-year-old whose sexy past disqualified her from American Idol, and fresh-faced Patrick Thomas in the stetson hat from Tennessee, whose singing helped him take on the school bullies. Judge Cee Lo Green says, "it's not about the judgment, it's about the journey", but the audience's intrigue will be the judge of that.
The Voice is conveniently scheduled to follow Maori Television's new Saturday night reality series Head Start, which sends its winner on an $18,000 hair and makeup course at Auckland's Cut Above Academy (presumably they will still have room to improve by the end of the show). It has also managed to pull out some real characters. Sure the show might have benefited from a more vibrant Maori name - perhaps a translation of the phrase most commonly used by hairdressers kei te pehea koe (soooo, how are you)? - but it introduces the likes of softly spoken Tina Marie Tinirau, who hopes her love of graffiti art will translate to the creativity of her makeup application, and the more flighty Keesah Thatcher, who realised she had an eye for makeup during her gender transformation. Reality gold and, what's more, a show that further proves not everyone's neighbour is the mid-30s divorcee suffering an existential crisis.
- TimeOut