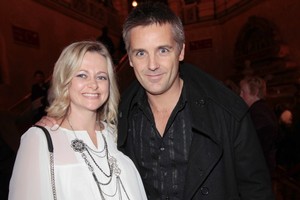 Congratulations to Shane and Nerida Cortese who welcomed a baby boy last week they've named Jett - presumably in a tribute to the Travolta's.
"He's here!!!" his mother Tweeted enthusiastically. "Jett Patrick Cortese. 8 pounds 7 and PERFECT".
It was a long wait. "I'm gonna walk up and downstairs, eat a curry, have a hot bath. Let's see how else can I get the little sucker out!" Nerida said.
Friends offered suggestions to help hurry the birth along. "Sex? Forget that. Man, the image... not pretty".
The couple have signed a deal with a tabloid magazine for an undisclosed fee to announce their good news. They have a four-year-old son called Kees, and Shane has a teenage daughter from a previous relationship.
Lee leaves in a New York minute
Heartthrob actor Lee Donoghue, aka Hunter McKay, has taken a three-month sabbatical from the set of Shortland Street to go to drama school in New York.
The 27-year-old's character is battling drug issues on the soap and will leave for rehab. Donoghue, who was part way through his studies at Wellington's prestigious Toi Whakaari New Zealand Drama School when he landed the role five years ago, left for New York on July 4.
He's hoping his experience won't be as memorable as the last time he was there when he was hit by a car and rushed to hospital. Mind you, it beats Rome, where he got caught up in a thunder storm and was struck by lightning.
Steamy chat
"I've got an interview in New York tomorrow, then I will be off to either Afghanistan or Norway on Friday," Chris Carter said to a young Indian male friend in the steam room after yoga class at Les Mills last Monday. My mole was there too: sweating like a pig; ears flapping.
Carter said he may relocate to Afghanistan for a two-year stretch, and the friend suggested he could visit the former MP there when he took a trip to the Punjab.
Carter joked he wouldn't be able to sunbathe in Kabul because there were only two hotels and one of them had just been blown up.
However, Carter wasn't laughing when we rang. In fact, he denied the job interview and the Afghan trip. "I have no post-election job yet and... if and when I get one you will naturally be told." Is that another joke?
Domestic bliss
The country's most intriguing WAG is playing domestic goddess, according to her Trade Me account.
Richie McCaw's new beloved Nicola Grigg hit the auction website with vigour last month at the same time news broke about her secret relationship with the AB captain.
The communications manager and journalist bought a variety of household furnishings - but is she setting up home with Richie?
She snapped up a pair of shabby/chic bedside cabinets with porcelain handles that the vendor in Rangiora described as more suitable for "a girl's bedroom ... but could be gender neutral with a change of handles."
Richie may have to embrace his feminine side.
Grigg also bought a 6.5kg Fisher & Paykel washing machine with a 30 day warranty from a seller in St Albans. Will she be washing Richie's rugby gear?
A Fisher & Paykel Slimline fridge freezer was also purchased from a vendor in Christchurch, but that may be a bad move. Richie eats a lot.
And the Canterbury resident, who recently relocated from Queenstown, splurged on a cream three-seater sofa bed too - presumably for all those times his teammates stay over.
The world according to Kate
The sound of a score being settled was as loud as her hypocrisy. "News of the World closing cause [sic] tabloid scumbags don't prosper (that tweet for all my Herald on Sunday followers)," said mother-of-five Kate Hawkesby with no apparent hint of irony.
Last week she stared back, seemingly cross-eyed, from the pages of a tabloid magazine nuzzling a new guide dog puppy - her second pooch story for the rag.
Hawkesby is an ambassador for the Foundation of the Blind, but typically is no stranger to that most acceptable of celebrity causes: chequebook journalism.
Seems tabloid magazine hacks are not scumbags when they come bearing cash and control of the copy.
For heaven's sake, will someone tell this sanctimonious luvvie to get down from her self-righteous moral high ground?
She had the gall to whine when the media uncovered her high-profile relationship with Mike Hosking, but will try to manipulate the media in order to enhance her relationship and her bank balance.
-Herald On Sunday / View