Moving as a child does is a key step to good posture. Gill South learns the Alexander Technique.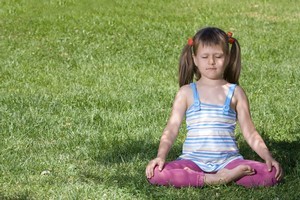 This column is starting to mess with my head. After my session with the extremely pleasant and restful Jann McMichael, a teacher of the Alexander Technique, I am now beginning to re-examine the way I sit in a chair, walk around the room and hold my head and neck.
The Alexander Technique is about mind-body re-education. The idea is that it stops the bad patterns you have got into, like slumping, locking your knees, tightening your shoulders and holding your breath.
At my introductory session I learn about letting my neck be free, dropping my nose but not dropping my head back when I sit. Jann tells me to walk about the room and examines how I am doing it and then looks at how I hold myself sitting down.
Jann, who had a bad back problem herself before discovering the technique, isn't doing any manipulating - she's just showing me, with her hands, what, for instance, my neck is doing when I sit down into a chair.
An Alexander Technique teacher should show you how to use your body more comfortably and efficiently. If I am doing it right, I should expect my pelvis to be aligned, my knees unlocked and my legs at ease. My head should be buoyant, freely poised and nicely balanced.
Who was this Alexander chap anyway, you ask?
His name was F.M. Alexander, an Australian actor who lived at the turn of the 20th century. He studied posture because he kept losing his voice. Looking into numerous mirrors, he realised his movements were interfering with the natural relationship of his neck, head and back. He decided to inhibit these old movements and encourage the awareness of the primary control centre of the body - the head, neck and spine. The acting fraternity has long practised it - Dame Judi Dench and Julie Andrews and even Princess Diana endorsed the technique. Plenty of doctors are recommending it these days.
Rather than giving me exercises, the Alexander Technique is more about showing me how I can stop doing things that are getting in my way. Jann gets me up on the therapy table where I lie in a semi-supine pose. I have my knees up, my feet firm on the table and my hips loose. Jann guides my head at the back and lightly presses down my shoulders. She moves my knees from side to side, keeping them loose. This is all about breaking those patterns you get into during the day.
Ideally, she says, I want to be going back to moving as I did when I was a child.
When I move off the table, she gets me to roll off it as a baby would - the eyes move first, then the neck, the rest of the body and the head last. I'm going to start following my children very closely round the house and see how they sit down and lie down. That's going to freak them out.
It's all about stimulus response, says Jann. Life is about responding to the situation. If we respond in a more efficient way we have a better possibility of an easier, more flexible life.
Next week:
I've had the offer to try some burlesque dancing with Miss La Vida and really it would be rude to refuse. It's very popular for hen parties but as none of my friends are getting married, I am going to have to go by myself. I'm told the feather boa is provided.