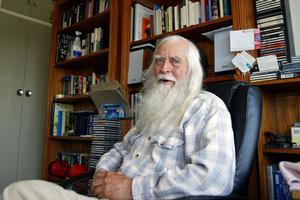 There are times I wish sex offenders like Herbert Thomas Potter could be incarcerated for the rest of his natural life somewhere well out of the reach of the media, so we never have to hear his sickening, self-justifying utterances.
Otherwise known as Bert, the founder of the Centrepoint community in Albany was sentenced in the High Court in Auckland in November 1992 to 7 years jail after being convicted of 13 charges of indecently assaulting five girls between 1979 and 1984. The victims were aged between 3 and 15.
Justice Blanchard, sentencing, said Potter was the father figure at Centrepoint but had "systematically corrupted children for his own sexual pleasure and had abused the power and trust community members placed in him".
Potter's wife, Margaret, pleaded guilty to five charges of indecent assault.
It was a disgusting, sordid place, that middle-class, guru hangout. The followers would think me prissy, but these so-called enlightened people, willingly turned over their offspring to an old man to lose their virginity.
Now, Massey University psychologists have released research conducted over three years in which they interviewed some 29 children raised at Centrepoint.
Here is one quote, if you can bear to read it: "That was when I was 12 ... my friends organised an orgy, wanted, people to come to our orgy, and it was all to, to deflower all of us. And, you know, at 12 and 13 and stuff, and and I was all, like we were, I was part of initiating it."
Massey researchers found Centrepoint "was an environment which potentially exposed children to a range of adverse circumstances that extended well beyond the widely reported sexual abuse".
"Drug use, psychological manipulation, parental neglect, witnessing abuse, corporal punishment, adult conflict, peer bully and a parent's imprisonment were just some of the additional factors that may have impacted on them."
But if you think seven years imprisonment has chastened Bert Potter, you're wrong. Now 85, he says the commune should be reopened, sex is good for kids - they just need more of it - and the children at Centrepoint were "quite happy with what was going on".
Obviously some mothers were. When Potter was paroled, conditional upon no contact with children, 22 of the 32 women at Centrepoint petitioned for Potter be allowed with their kids.
What's almost worse than Potter's actual offending - though that's unbearable enough - is his total lack of accountability. How can people be so self-centred they are totally unaware of the effect their behaviour has on others?
Not all sexually-abused children become life's cripples, but there are unhappy consequences. Researching the Australian sex offender book, I met victims of incest who'd lived on the streets, had multiple suicide attempts, and were serious drug addicts.
There are others who go through life hiding low self-esteem, over-achieving, braving the criticism when yet another relationship fails, taking their secrets to the grave.
There are hundreds of men around like Potter and they are not harmless, even if they don't have convictions. They like to manipulate the debate, either accusing victims of making it all up (false memory syndrome), or discriminating against paedophiles in the same way as homosexuals.
In 1996, Gerald Moonen, then self-proclaimed chairman of Australian Man Boy Love Association, wrote to me when I published the New Zealand Sex Offender Book, objecting to my using the word paedophile "as a synonym for sex offender" because it "criminalises a large group of people who have never broken the law.
The same tactics were employed against the Jews, blacks and homosexuals. What you are doing is to partake in a witch hunt often against innocent people. They are gentle and non-violent people."
Jules Pierre Nicolas Mikus, guilty of sexual violation, rape and murder of 6-year-old Teresa Cormack. Gentle and non-violent?
I doubt we've learned from the Centrepoint debacle. There'll be another Potter, skilled enough to charm children from the arms of stupid women.