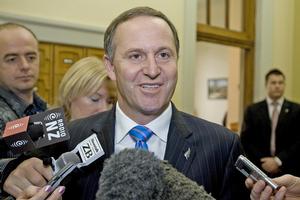 John Key is promising senior business leaders that 2010 will be a "game-changer".
But with his pledge comes a warning. Don't expect my Government to implement policies that will simply result in a Labour Government at the next election."I don't think we'll be helping business if we do that" is the Key mantra.
Behind the scenes, the Prime Minister stresses that 2010 will be a very important year for his Government. He plans to stake out an economic plan that people "can understand and buy into".
In 2010, Key will be focused on "growing the revenue line".
So far, the PM has put out little detail in public on this score.
His contention is that New Zealand needs to "move up the value curve"; have a tax system that encourages savings and investment; focus its international business ambitions in the Asia Pacific region; produce more high-quality products; and maximise the New Zealand brand.
In Key's prescription, the Government's role is about changing the balance and allocation of the country's resources. This is code for re-balancing the economy so that there is more incentive for individual Kiwis (and businesses) to stay and invest.
Among the paradigm shifts Key wants to effect are getting business switched on to investing in research and development and getting business to learn to accept a higher dollar.
Potential game changes include more focus on food production, utilising New Zealand's water resources more effectively, and scaling up petroleum production.
Two issues have clearly spooked the Prime Minister.
First, leading businesspeople have made it clear they are not impressed with the quick-fire manner in which Key publicly jettisoned the recommendations that Don Brash's team rolled out in the 2025 Taskforce's first report.
While the business sector doesn't adopt Brash's report holus bolus, many are not happy that the Government's standard response to many politically unpalatable options has been to close off debate rather than engage in the substantive recommendations, many of which simply mirror suggestions by reputable bodies like the OECD.
Second, the latest TV3 poll shows nearly 40 per cent of respondents believe Key is more about "style than substance" .
The upshot is this rating on the preferred Prime Minister stakes has dropped to under 50 per cent for the first time this year.
He has also suffered a 9.4 per cent loss on the approval ratings for how he is performing his role.
For a poll-driven Prime Minister like Key, the second factor will be of the highest importance as it confirms trends in the Government's own in-house polls. The upshot is Key has used his final business briefings for 2009 to reassure businesspeople that the Government is not opposed to all the Brash taskforce recommendations.
It doesn't want to "rip the guts" out of the Government's expenditure line. But if the Government holds new Budget spending to a constant $1.1 billion increase each year, over time this will have the effect of pulling Government spending back down towards 30 per cent of GDP and, in Key's words, "force change through the system".
Drawing a line under this year ought to be a relatively simple matter.
The Government has largely succeeded in maintaining a constant tone. Business confidence is steady. The "green shoots" are finally flowering.
Yesterday, Finance Minister Bill English underlined that despite some positives in the half-year economic and fiscal update, next year's Budget will still be a challenge.
Westpac's economists were more to the point, saying the Government was stuck between a rock and a hard place. While economic activity was improving, the legacy of the recession and past big spending meant choices were limited.
Of particular interest is Westpac's concern that the core Government expenses are forecast to rise by 19.1 per cent between June 2009 and June 2014. It notes that is despite the Government remaining committed to the $1.1 billion cap on new operational spending from June 2011, growing at 2 per cent a year thereafter.
While Westpac notes that the higher expenses largely reflect higher inflation-indexed benefit costs, it is clear that the Key Government will still be faced with major cost-cutting at the 2010 Budget if it is to return the budget deficit profile to manageable proportions.
Key may wish he had been less categorical on the Brash prescription when his Government has to get down to the wire and cut wasteful programmes.
On the revenue side, the corporate tax take will be sluggish. But Westpac notes that from 2011, the weaker corporate taxes should be offset by higher PAYE and GST.
Where does this leave Key?
Changing New Zealanders' expectations will be a challenge.
But the Government has learned from the Brash episode.
Rob Cameron's Capital Markets taskforce will get an easy trot today. Cameron has widely telegraphed the recommendations.
Commerce Minister Simon Power will be on song and on cue.