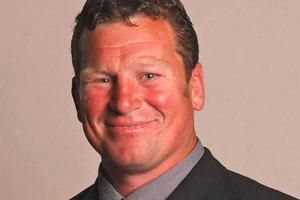 Like everyone else, I was a bit gobsmacked to hear Paddy O'Brien giving referee Stu Dickinson a bollocking after that dreadful test match in Italy.
Paddy, ever since he has been head of referees for the IRB, has been a feisty little rooster - protecting his chickens (his referees) against all comers. This time, however, he gave poor old Dickinson a real rucking.
And he was right. Dickinson's interpretations were appalling. There was no question the Italian prop Martin Castrogiovanni was boring in - an illegal manoeuvre which should have been penalised.
The things is, I don't think the All Blacks, the scrum coach and even Paddy himself can get away unscathed either.
I'm not going to say a word against Wyatt Crockett - he's a good, young prop and part of the reason he is an All Black is his mobility and his work-rate round the field. He's not the best scrummager we have but that will come, provided he gets time to do so and he isn't sacrificed after that debacle.
But I think scrum coach Mike Cron has a bit to answer for. There are ways to combat a prop boring in but the All Black front row didn't seem to know what they were.
Crockett got screwed; exposed. In 2003, when I was helping John Mitchell and Robbie Deans with the All Black scrum, they'd experienced trouble with that slippery customer, Bill Young, of Australia. He was forever boring in and disrupting things and got away with a lot. I showed his opposite of the time, Greg Somerville, how to counter it by placement of the feet, getting in tighter to get a good hit on and other methods.
I won't go into too much detail here because this will start to look like a coaching manual but, believe me, there are things you can do. The All Blacks did none of them that I could see.
Another remedy is what might be termed "corrective therapy". I know that has gone out of the game these days and fair enough - but I was still surprised no one in the All Blacks had a forceful conversation with Castrogiovanni that didn't involve any words.
I know, I know - anyone doing so would be carded. But Tialata got yellow carded anyway in Dickinson's confused way of dealing with things - so what's the difference?
Look, down the ages there have been All Black correctors and enforcers and they fulfil a useful function. Often, they don't have to do much and, once a reputation is gained, that is usually sufficient.
An example was the provincial match between Wellington and Hawke's Bay, when prop Clint Newland decked Neemia Tialata at a lineout when Tialata was being a nuisance. It might be wrong but, tell me, has anyone messed with Clint Newland since?
It was the same with great All Blacks like Kevin Skinner and Cowboy Shaw. Opponents knew they couldn't take liberties and, whether you like it or not, intimidation has always been a part of the front row world. The All Blacks held their nerve and their discipline, which is good, but they did look to be intimidated, which we old stagers don't like to see.
Then there's the standard of refereeing scrums. It is generally bad, has always been bad and probably will always be bad.
Stu Dickinson has reffed countless first-class matches and he can't tell when a prop is boring in? Nor can his linesmen? Good grief.
That comes back to the quality of referees and Paddy, I'm afraid. The problem is that frontrowers rarely become refs. Usually for good reason. I'd love to be a ref - but I'm afraid I might not be anywhere around when they score in the far corner.
Most refs do not know what is going on in the front row and I don't think it is going to change any time soon. There must be a way, however, of getting refs more savvy.
Want more proof? Look at the Wallabies-Ireland match, where Brian O'Driscoll scored to make it 20-20 and ruined the Wallabies' hopes of a Grand Slam.
The referee there - Jonathan Kaplan, one of the best - penalised Irish prop John Hayes (a well-known under-performer at scrum time) for boring in. The next scrum, Hayes bored in and collapsed the scrum - and O'Driscoll scored from the movement.
What gives, Paddy? Will Kaplan also get a bollocking?