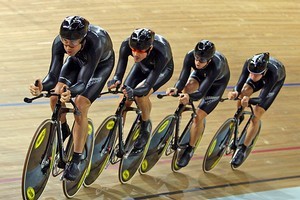 New Zealand's team pursuiters are setting fierce challenges for their Australian track cycling rivals in the build-up to the London Olympics.
The Australian squad for the World Cup round in Cali, Colombia from December 1-3 will focus on the men's and women's team pursuits.
This week, the New Zealanders set scorching times during the Oceania championships at Invercargill, with their men producing the fourth-fastest time in history and the women only 19 hundredths of a second outside the world record.
While the Australian men are world champions, the women are still trying to work out their best combination.
"We have a lot of hard work ahead of us and, obviously, the Kiwis have set the benchmark now," said Australian women's track endurance coach Gary Sutton.
"I believe in this team and I honestly believe they'll be good when they need to be.
"We're up there, we're in a reasonable situation, but the crunch is that the team needs to lift."
NZ won the women's team pursuit in three minutes 19.759 seconds - the fastest time this year - and an Australian team was 10 seconds off the pace.
The NZ men caught the attention of their Australian rivals by winning their event in 3:55.295.
"It sharpens the focus of our riders and I think that's a good thing," said Australian men's endurance coach Ian McKenzie.
Four of the five Australian men going to Cali are reigning world track champions.
Luke Durbridge, Michael Hepburn and Rohan Dennis were part of the victorious teams pursuit squad and Michael Freiberg won the omnium world title.
Mitchell Mulhern will join them for the Cali trip.
The four-woman squad will feature Josie Tomic and Sarah Kent, who won the world title last year along with Ashlee Ankudinoff.
Melissa Hoskins and Annette Edmondson are also in the seven-rider track endurance squad.
Sutton plans to start pruning the squad after the late-January national track titles in Adelaide, ahead of the April world titles in Melbourne.
"Every day is crucial - every day, every training session," Sutton said.
"Every time they throw a leg over the bike, they have an opportunity to put their hand up and produce something special."
Sutton added while New Zealand were setting the standard in the event, there is only a couple of seconds between half a dozen teams, including Australia.
He wants a top-four finish for Australia in the women's team pursuit at Cali.
"Cali is a chance for our women to put their hands up to make the short squad," he said.
"The pressure is building on riders vying for places in London but, if they can't handle the pressure now, they won't handle it next year."
- AAP