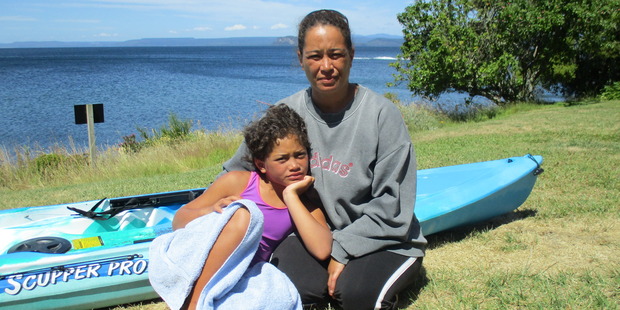 A 40-year-old Turangi woman who spent nearly five hours adrift in a kayak on Lake Taupo last night says it was the scariest experience of her life.
Amanda Wirihana-Tawake went on the lake at Pukawa abut 5pm for a short kayak but was blown offshore in choppy conditions about 15 minutes into the trip.
Although she was wearing a lifejacket and is a good swimmer, she had no cell phone or other form of communication and was unable to get back to shore.
"I just kept on going and going and going.
"The more I tried to come in, the further the shore was getting away and in the end I couldn't see Pukawa at all.
"When it got dark I was so scared and the waves were really big."
Wirihana-Tawake's partner raised the alarm about 8.30pm.
A Pukawa resident also called police to say he'd been watching a kayak, but it had blown so far offshore he lost sight of it as the sun was setting.
The Turangi Coastguard was sent to Pukawa and began a search downwind towards Motuoapa.
She was found at 9.30pm, around 3km offshore towards the middle of the lake.
An emotional Wirihana-Tawake said today her main focus when it got dark was keeping the kayak upright in the rough conditions.
She said reliving the experience was still difficult.
"I cried out for help but there was no one on the lake - not another boat in sight.
"I also prayed to Mum and Dad who have passed away to help me and guide me home."
When she spotted a green boat light in the distance, she cried out for help and waved her paddle and almost gave up hope when it looked as if the boat was heading away.
"I started crying and yelling and screaming, and when they arrived I have never been so happy to see a policeman."
Wirihana-Tawake says the rescue team threw her a rope and lifted her out of the kayak and did an incredible job reassuring her and making her comfortable.
She says she was physically okay apart from numb hands and cold legs.
"But I was going into shock and I would like to say a big thank you to the rescue team because they kept me calm, saying 'it's okay, we've got you now'."
Wirihana-Tawake was reunited with her partner and four of her six children who are on holiday at Pukawa.
She says if she hadn't been wearing a life jacket she doubted she would have survived and says the ordeal has driven home the importance of having some form of communication even when taking a short kayak trip, as well as keeping an eye on lake conditions.
Senior Constable Barry Shepherd said the event served as a reminder for people on the water stay with the vessel, wear a life jacket and carry two waterproof ways of communication.
He also praised the Pukawa resident who spotted the kayak from his window at about 9pm, noticing it was a long way offshore and getting dark, and alerted police.
"Due to him, we got the Coastguard boat in the right place for a start," Shepherd said.
For more articles from this region, go to Rotorua Daily Post