There's a big hole in Lance Carter's life. A hole that was previously filled by Leigh Rhodes, the love of his life.
Rhodes, 60, died on July 29, when a blue Nissan ploughed into her, Carter and their friend Kenny McCrae, 52, as they changed a tyre on State Highway 29A, in Tauranga.
It was about 4.15pm and Rhodes had been driving home from work in her SUV, when she got a puncture in the right rear tyre.
According to Carter, 66, she pulled off the road, put on her hazard lights and used a passerby's phone to call him.
"For the first time ever she left her phone at home. So she must have stopped somebody," Carter said.
Unable to drive, after recent surgery for bowel cancer, he asked his mate Kenny who lived next door to drive him to meet Rhodes. It was a Friday, and Kenny was off work. Carter was due to return to work after his operation the following Monday.
"The last thing I remember is walking past Leigh's door - she was in the car - I said 'just be careful when you get out'," he said.
"And she did get out carefully."
Before Carter woke up in Tauranga Hospital days later, he has short flashes of memory. He knew McCrae, his former colleague, neighbour, and friend of about 20 years had died at the scene.
And he knew Rhodes was gone too - she died in hospital later that evening.
"They brought Leigh to me - put her next to me."
Carter spent six weeks in hospital. His right arm wasn't working, he was bleeding internally and his ankle was shattered.
He thanked hospital and ambulance staff for their amazing work. "All you can ask is for somebody to do their best - well they did their best and more."
At home now, and more than two months after the accident, the right side of his body is still bruised, and he needs a moon boot.
Friends and family are taking care of him - bringing food and offering support wherever they can.
"I was fighting for my life. There were a few days there where they thought I wasn't going to wake up," he said.
"I'll never be the same - I've got plates in it for Africa. I'm going to rattle when I go through the airport - there's a hunk of metal in me that looks like a toothbrush."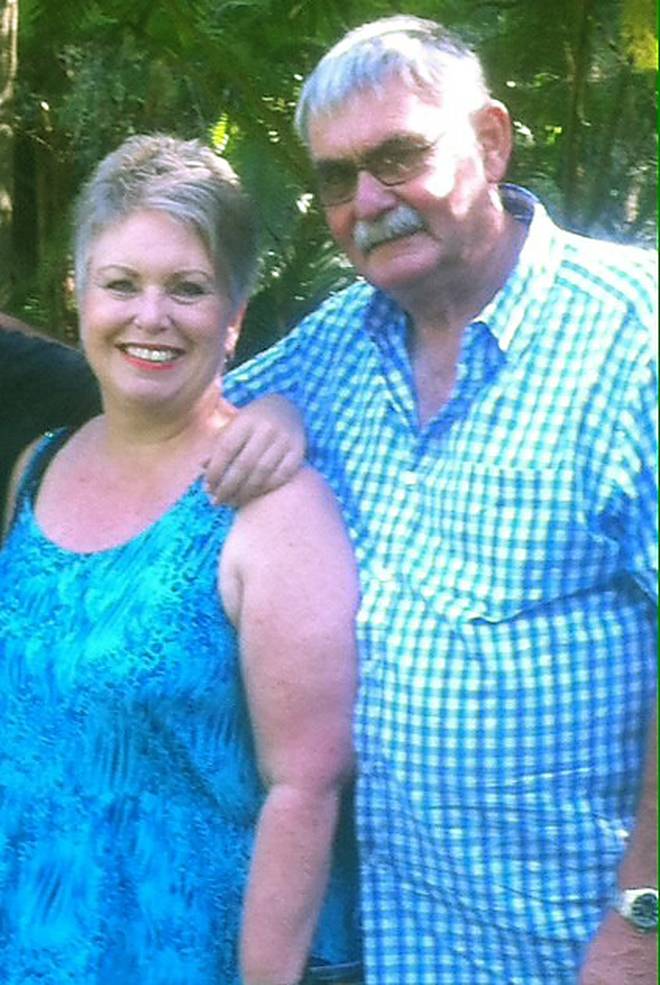 Carter met Rhodes about eight years ago, at her uncle's funeral.
They were friends for a long time before they became a couple.
"There's just a big vacuum in my life at the moment. A big hole, mate. I miss her being here," he told the Herald on Sunday.
"Her standards of living were immaculate, she was very particular. And she could cook, mate, she'd whip up something out of nothing for a whole heap of ya."
No one ever went home hungry after an evening at their Ohauiti home, he said.
Carter met McCrae when the pair worked together at a car dealership, and they'd been friends ever since.
About four years ago, McCrae moved into the house next door. Their properties were separated by a small gate. They spent a lot of time together, having beers and barbecues.
"We'd have the world fixed by the time we'd finished," Carter said.
He has no idea who the driver who hit the trio was. And police are yet to lay any charges.
A spokeswoman said the vehicle's driver was a New Zealander, but she could not confirm further details, and said the investigation was ongoing.
It's understood Rhodes was waving traffic past at the time of the crash, while the two men were jacking up the vehicle, which was parked in the left-hand side of the east-bound dual carriageway of a causeway about a kilometre from Baypark Stadium.
As traffic merged around them, the wheel had been taken off and the two men were just about to put the spare tyre back on when one car, a blue Nissan, struck all three of them.