A group of strangers who rescued a family trapped in a fiery crash seconds before the wrecked vehicle exploded have been honoured for their heroism.
Murray Michie, Anthony Duffy, Jamie Yalden, Stacey Watt and Kate Elliott have been recognised today for putting their lives at risk pulling a mother and her three young daughters free from a burning vehicle near Bulls in July last year.
They are among eight New Zealanders who have had their valiant acts rewarded by the Royal Humane Society at Government House.
The crash happened when a car travelling more than 150kmh crashed head-on into a Toyota Landcruiser towing a horsefloat at Mt Stewart on State Highway 3 near Bulls.
The car driver was killed instantly.
The Landcruiser ended up on its roof, the horsefloat straddling a fence over the side of the steep bank, and caught fire.
Pinned by her seat and steering wheel, Susan Evans was unconscious as smoke billowed from the vehicle.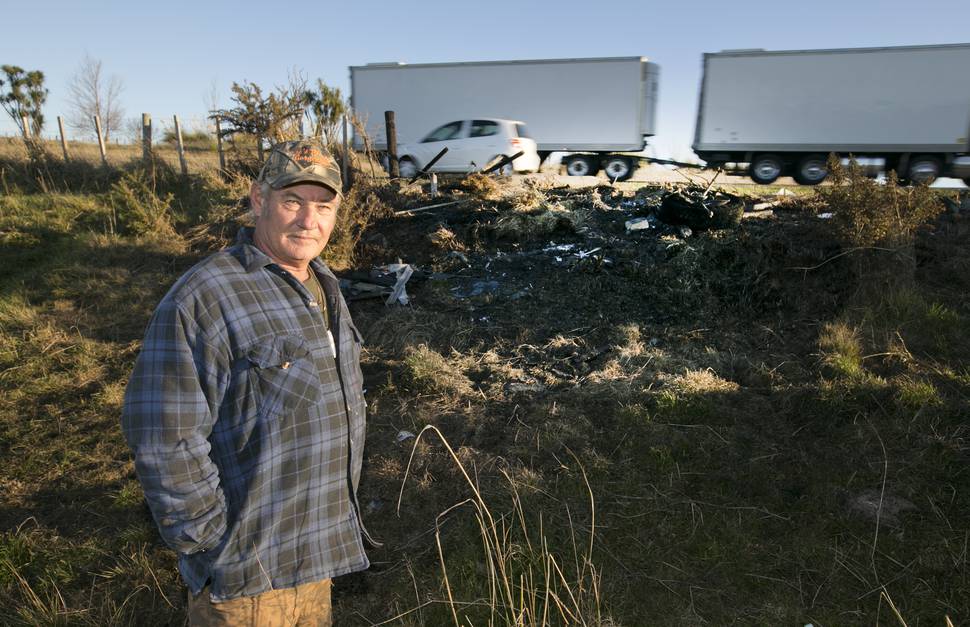 Despite the flames, Michie raced to the burning vehicle and started rescuing the family.
Daughter Gabrielle, 15, managed to climb out through a rear window but sisters Hannah, 14, and Hayley, 11, remained trapped by their seatbelts.
As flames from the engine began to spread into the passenger area and smoke billowed from the vehicle Michie crawled inside armed with a pocket knife from another passing motorist to cut the girls free.
Motorist Yalden tried to put out the flames with a hand-held extinguisher.
A truck driver and volunteer fireman Duffy came across the crash and joined efforts to keep the fire at bay while Michie worked desperately on the seatbelts.
At this point Watt and Elliott joined the rescuers to pull Hayley, who was unconscious and had a badly broken leg, out of her seat.
This left only their mother inside. She had suffered critical injuries and was unconscious.
Her seatback had collapsed and she was wedged between the front seats with her legs trapped behind the steering wheel.
Michie managed to cut her seatbelt and the rescuers pulled her out.
They were barely 3m from the vehicle when it exploded.
Michie was awarded a silver medal, Duffy and Yalden bronze medals and Watt and Elliot certificates of merit.
The humane society also recognised the efforts of those involved in a daring late-night rescue of a drowning man in Wellington Harbour last March.
Payge Olds, Jonathan Derrick and Logan Mason were awarded silver and bronze medals for swimming to a man in trouble 70m off the rocky Eastbourne coastline.
Despite her limited ability in the water Olds swam out on her back to gauge her direction from a torch being held by Nattrass.
Once she got to the approximate location, she found the man unconscious and floating facedown in the water.
She turned him over and tried to swim him back to shore. Struggling under his weight and starting to go under she called for help.
Derrick and Mason, who were also not confident swimmers, swam to her.
The trio than swam back to shore with the man. Others on the beach performed CPR on the man until emergency services arrived.
Despite their efforts the man died three days later.
Kelly McKay, who performed CPR on the man, was recognised separately by the society for her humane and praiseworthy actions.