After allegedly shooting four police officers and facing a 22-hour stand-off with authorities, Rhys Warren stood in the dock with his head bowed low.
The 27-year-old appeared in the Whakatane District Court yesterday and was remanded in custody without plea on four charges of using a firearm against police. The charges he faces have a maximum penalty of up to 14 years in jail.
Warren, of Coastlands, stood silently in the dock. He wore a blue boiler suit and kept his chin down.
READ MORE:
• Officers praised for 'textbook' outcome
He entered the court flanked by two police officers before standing alone with his hands handcuffed together.
About six family and friends were in court for his five-minute appearance.
The names of the police officers who were injured in the shooting on Wednesday were suppressed by Judge Peter Rollo.
A psychiatric report will be prepared and Warren will reappear in the Rotorua District Court on March 24.
Family members, who were at the scene throughout Wednesday night, tearfully said they "still love our son" after he was arrested by police yesterday morning, surrendering peacefully after being holed up in a property at Onepu, near Kawerau.
Warren allegedly shot and injured four police officers on Wednesday during a drug operation in the small Bay of Plenty town.
One officer is in hospital in a serious but stable condition, another is awaiting further treatment for a gunshot wound to his hand and the others have been discharged.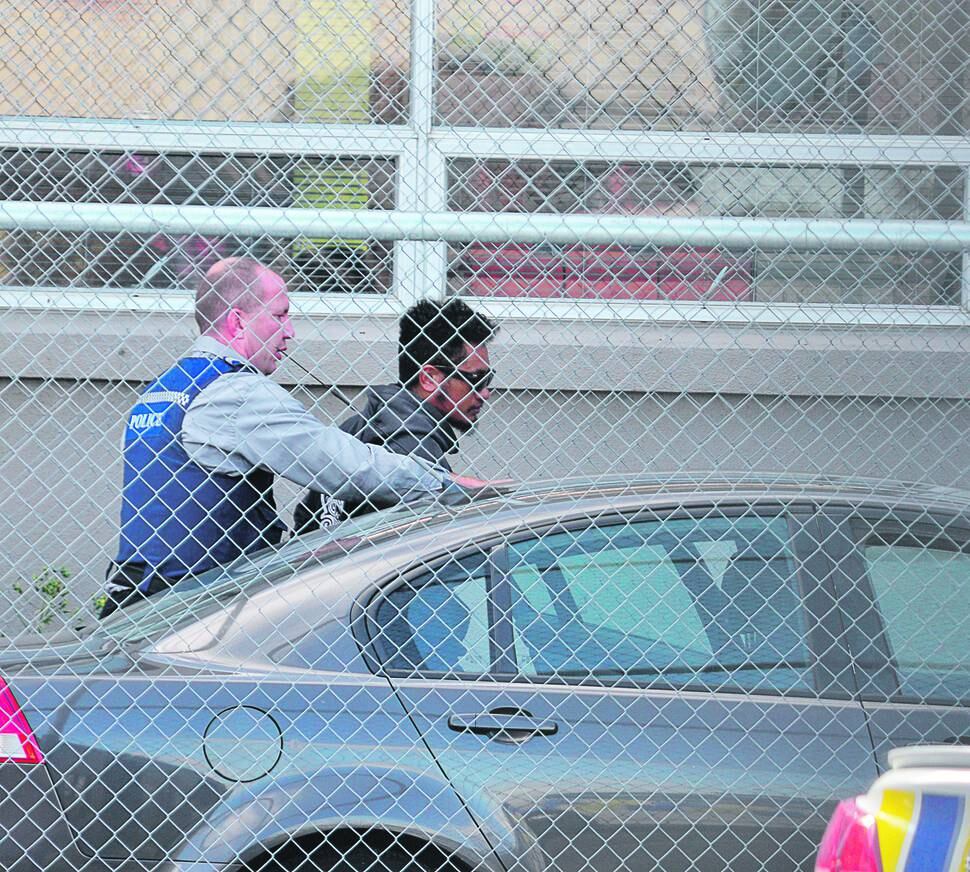 Police Commissioner Mike Bush told media yesterday he had made contact with the officers involved.
"This morning I visited the two seriously injured staff members at Waikato Hospital. They are currently in theatre - one is more seriously injured, he has a firearm injury to the head and it will be operated on as we speak. And the other officer has a firearm wound to his hand, and that also is being treated as we speak."
Mr Bush acknowledged the medical assistance given to the four injured officers. All were receiving excellent support and help from their whanau and colleagues.
Mr Bush thanked Taupo police area commander Inspector Warwick Morehu - the man Warren's family have dubbed a hero for the role he played in resolving the situation.
He was specifically requested by Warren and his whanau to be the officer to approach their son.
Mr Bush said Mr Morehu, a Maori police liaison officer, kept a close connection with Warren's family and was also involved with talking to him and helping to bring the situation to a safe end.
When asked if the police fired any weapons during the stand-off, Mr Bush said: "Yes, there was an exchange of gunfire but we're about to commence our investigation and our scene examination, so I can't go into any more detail on that as yet."
Warren was arrested after a 22-hour stand-off with police, and wore sunglasses and a dark top as he left the scene in the back of an unmarked police car at 9am yesterday.
Family members voiced encouragement and tapped the car as he was driven away. They gathered around to pray with a church minister.
Warren's relative and kaumatua paid his respects to the wounded police officers.
"On behalf of the people in Onepu, our thoughts go out to the police officers who were wounded. Our apologies to them and to their whanau from the people of Onepu," the Rev Wayne Te Kaawa said.
Warren's mother, Renee Wetini, said her son was "clearer" in his head.
"He's a bit clearer in his head, he would have been scared yesterday, frightened ... with the helicopters and everything.
"We still love our son and we're very happy with the outcome, we couldn't have done it without the whanau. This is what we wanted all along. We felt that we couldn't do it without the whanau intervention.
The dramatic stand-off ended 22 hours after it began after Mr Morehu entered the cordon to speak to Warren.
Mr Morehu, who is also a Maori liaison officer, then approached family at the intersection, and after speaking to them briefly, hugged and kissed them.
Warren's family hailed Mr Morehu a hero who defused a potentially deadly stand-off.
"I don't know about hero, to me the heroes are the guys who went to hospital yesterday. I suppose that certainly serves as an inspiration when you have got close colleagues being hurt in the field.
"We come out and we do our job, we do what we can in a time of crisis."
Out of uniform, Mr Morehu has played 101 first-class rugby games wearing the Bay of Plenty Steamers or King Country jersey, or with his Whakarewarewa side.
In 1999, Mr Morehu became the face of the Rugby World Cup campaign.
He also appeared in the film What Becomes of the Broken Hearted.
Mr Morehu was at the scene on Wednesday night but was travelling back to Rotorua when he was summoned back to the property because Warren wanted him to be the police officer that arrested him.
Warren's cousin, Rachel Pereniki, said she knew her cousin trusted the former Opotiki officer and Kawerau senior sergeant, as did the rest of the family.
"We know him, we trust him and we knew he would do the best he could for us."
Mr Morehu said he had had some dealings with the family back in 2009 when he was working at Kawerau police station and that it had helped to build rapport with the family.