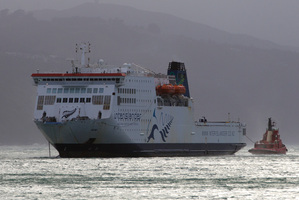 Mechanical problems caused sailings for the interisland ferry Kaitaki to be cancelled until tomorrow night, KiwiRail says.
The Cook Strait service would not resume until its scheduled 8pm crossing tomorrow from Wellington to Picton, KiwiRail spokesman Michael Flyger said.
The Kaitaki today suffered a coupling failure on a shaft generator.
Work was being done to solve the problem and freight and passengers were being transferred to the Aratere where possible, he said.
The latest woes follow almost a year of mishaps with the Cook Strait ferries.
Last November the Aratere was taken off duty after one of its propeller shafts snapped in the Strait.
It was replaced by the Stena Alegra, which suffered a number of problems during its service, including a damaged propeller, staff illness resulting in cancelled sailings and a gash in its hull.
Since its return in July, the Aratere has had some sailings cancelled because of smaller propellers slowing its journey between the islands.
- APNZ