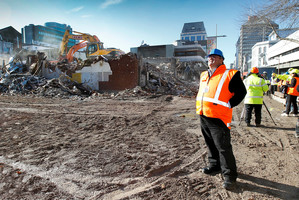 National has today reaffirmed its commitment to the rebuild of Christchurch, but its proposed changes have been dismissed by Labour as an admission of defeat.
Prime Minister John Key announced this afternoon that the Canterbury Earthquake Recovery Authority (CERA) would be made an agency within the Department of Prime Minister and Cabinet.
This would allow CERA to have its functions wound down gradually instead of being suddenly cut off at its scheduled expiry date in April 2016.
"The notion that everything finishes and the Government involvement finishes in 2016 is not realistic and we're trying to show Cantabrians there's a long-term commitment to the future of their rebuild," Mr Key told reporters after a speech to the Canterbury Chamber of Commerce in Addington.
He added: "The really key piece of advice we've had from our officials is that you can't come to an abrupt end.
There's a big work programme here and you need a transition phase.
CERA was established in 2011 and was given special powers, along with Earthquake Recovery Minister Gerry Brownlee, to keep the rebuild on track.
Mr Brownlee today said a transition plan would be put in place to hand back CERA's powers and responsibilities to councils and other government agencies.
Labour leader David Cunliffe said National's plan was nothing more than a name change for the agency tasked with fixing the city.
He said Labour had previously proposed the gradual scaling back of CERA, but the idea had been dismissed by National as a "fizzer".
"The Government is tired and has run out of steam," Mr Cunliffe said in a statement.
"It has no fresh ideas. Having sat on its hands over the Canterbury recovery and allowed the rebuild to slide, the Government is now forced to adopt Labour's progressive positive policies."
Mr Cunliffe pointed to Labour's policies including 10,000 new homes for the region, a special earthquake court for outstanding claims and a $100 million rail network.
In his speech, Mr Key said National remained committed to Canterbury region.
He said the central city had moved "firmly from demolition to construction" and the "hectic rebuild is only going to ramp up over the next few years".