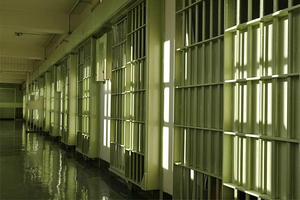 Involvement in a prison riot and subsequent move to the country's only maximum-security prison has been the catalyst for an inmate to turn his life around, a court has heard.
While serving a jail term at Tongariro Rangipo Prison, in the central North Island, 23-year-old Bertram Sturley became involved in a riot which eventually cost taxpayers more than $110,000.
Today at North Shore District Court he had two months added to his current sentence after admitting causing intentional damage, which Judge Roy Wade described as lenient.
While in lockdown on the evening of March 29, 2013, one prisoner smashed his cell window and climbed out, giving him access to the open compound, the judge said.
The man went berserk with a broom handle, smashing several windows and doing significant damage to the guard room, while encouraging other inmates to join him.
He and two associates climbed over roofs to gain access to the unit that housed Sturley.
Along with others, he joined the riot but Judge Wade said he did so "extremely reluctantly".
"You were instructed by a patched member to join in the riot or you'd get a bashing the following day," he said.
Sturley was spotted on CCTV causing damage to drainpipes as he climbed on to a roof. He also ripped an antenna off, which saw him charged along with several others.
As a result of the offending, Sturley was moved to Paremoremo Prison -- the home of New Zealand's only maximum-security unit.
Judge Wade said that would ordinarily be seen as a step backwards but it had helped the 23-year-old.
"With the benefit of segregation and trade training, you've made a significant turnaround in attitude," he said.
Sturley was on the way to completing NCEA levels one and two, in the hope of studying electrical engineering.
Judge Wade said it was also impressive that he had turned his back on his gang affiliations even after members sought retribution for doing so.
The decision meant he would be unable to return to his home town of Rotorua, the court heard.
Sturley would likely be released in May.
Meanwhile, Lloyd Currie also appeared in court on charges stemming from the riot.
Judge Wade said there were "very strong suspicions the incident was planned in advance" and Currie had been fingered by police as the instigator.
However, the defendant denied that and the case was adjourned until further legal arguments.
- APNZ