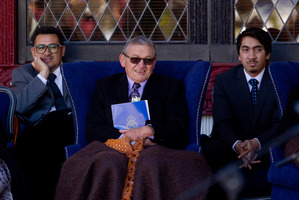 The Maori King has been discharged from hospital and is under strict orders to rest at home, his spokesman says.
Tukoroirangi Morgan said King Tuheitia was discharged from Waikato Hospital yesterday and was now resting at home.
"He is under strict instructions from his doctors to rest and get well.
"We thank all those people from around New Zealand, and the world who have sent the King well wishes over the past week. He is truly humbled at the messages of sympathy and support he has received.
"The treatments he has been receiving will continue and his progress will be closely monitored. We continue to have faith that he is receiving the best available medical treatment and remain positive about his overall prospects.
"We ask again that the King's privacy, and that of his family continue to be respected during this time."
Mr Morgan is undertaking the king's speaking arrangements and official engagements as he recovers his health.