Nasa astronaut and Kiwi museum director both secure snaps of a lifetime — from above and below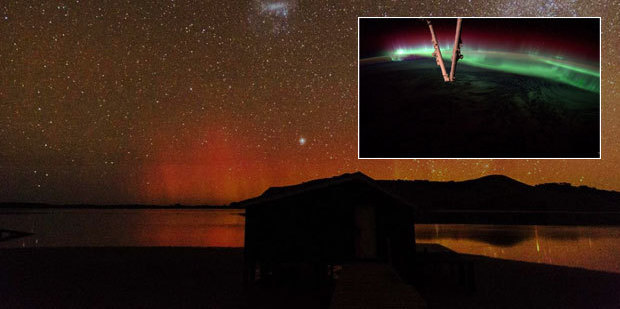 A geomagnetic storm has sparked auroras around both poles - helping set up a stunning photograph taken in Otago.
Dr Ian Griffin, the director of the Otago Museum, photographed the aurora australis, or southern lights, from Hoopers Inlet on the Otago Peninsula this week.
The display was caused by a moderate geomagnetic storm that is now subsiding. Astronaut Reid Wiseman photographed its effect around the northern pole.
Wiseman took his images of the aurora borealis, or northern lights, through the window of the International Space Station.
He put the images on Twitter, telling his followers: "Never in my wildest dreams did I imagine this."
Meanwhile, Nasa has asked for help in identifying images taken from space, including of New Zealand.
The agency has made available images ranging from the Mercury missions of the 1960s to those taken recently from the International Space Station.
There are more than 1.8 million photos, with around 30 per cent taken at night. The night photos have matching co-ordinates, but not the direction they were shot or what they shot.
"We don't know which direction the astronaut pointed the camera, only where the station was at the time the image was taken," researcher Alejandro Sanchez told CNN.
Those interested can look at photos at: http://www.citiesatnight.org/