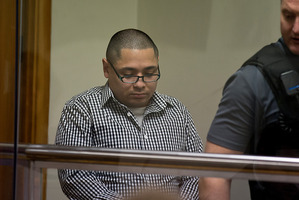 An Auckland man posed as a mall security guard, forcing a teenage girl into a changing room and molested her as she wept.
At Waitakere District Court this afternoon Juan Carlos Ruiz Mio, 32, was sentenced to two and a half years imprisonment on charges of indecent assault and attempting to make an intimate visual recording.
Both incidents occurred at West Auckland malls and the diminutive man told police he targeted girls in short skirts because they looked "easy".
Crown prosecutor Charles Henley said the comments demonstrated the premeditation involved in the offending and the man's lack of remorse.
On February 25, while trawling LynnMall, Ruiz Mio found a 16-year-old looking around Postie Plus.
He approached her claiming to be a plain-clothed security officer, said he had seen her shoplifting and directed her to the changing rooms to search her bag.
In the cubicle, she opened the bag to show she had not stolen anything but Ruiz Mio responded by putting his hands down her top.
As the victim began crying, the groping continued as he lifted her skirt and squeezed her buttocks.
When she finally escaped to alert shop staff, Ruiz Mio bolted from the store followed by the teenager's boyfriend.
He eventually lost his pursuer in the car park.
Two months earlier, Ruiz Mio entered the Unichem pharmacy at WestCity, Henderson where a 14-year-old was shopping with her mum.
He followed her as she browsed and positioned himself to take photos up her skirt with his cell phone.
The offending was thwarted by the victim's mother who confronted Ruiz Mio when she saw what he was trying to do.
He professed his innocence before fleeing.
In court today Judge Lisa Tremewen described the offending as "brazen and deliberate" and highlighted his previous 51 convictions, many of which were for violent crimes.
The offending before the court came while Ruiz Mio was on bail for shoplifting and subject to a sentence of community work.
Despite having served four previous prison terms, his lawyer Trunelle Massyn said her client was still supported by his partner.
"She has been saving money to move out of Auckland to get away from all the temptation," Ms Massyn said.
- APNZ