ACC report on claim rates throughout country shows Auckland rehabilitation costs topping $600m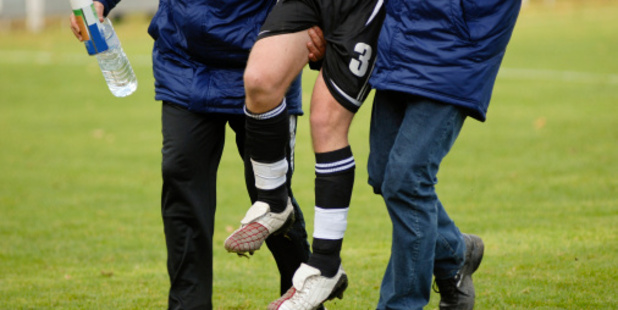 Aucklanders are sucking up more than $600 million a year in injury rehabilitation claim costs, but a major new report by the Accident Compensation Corporation reveals Nelsonians are the most injury-prone Kiwis.
The report compares injury rates across the nation's territorial authorities for the 2012-13 financial year.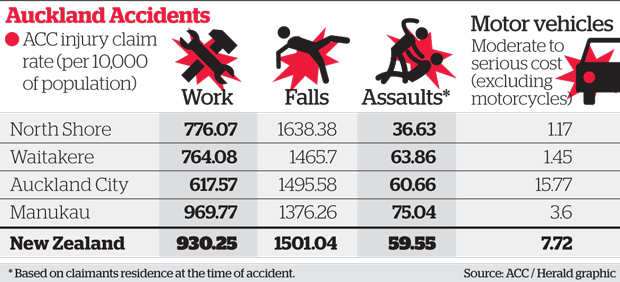 Nelson suffered the highest accident rate with 4713 claims per 10,000 people for new registered claims, while neighbouring Tasman district had the lowest rate at 2669. Auckland region's claim rate was 4076.
A series of profile reports, released yesterday, record accident scenes, the cause, what a person was doing when they suffered their injury and the environment around them.
Causes included loss of balance, skidding on feet and being knocked over by an object.
Other victims said they had been out walking or running when they were injured and even while playing with their children.
Thousands of Aucklanders are being injured on the job, workplace injuries causing more than 500,000 days of lost productivity in a year.
Auckland City had a relatively low claim rate of 617.57 per 10,000 people aged 15 and over - against a national rate of 930.25 - while Manukau City's claim rate was 969.77.
Kim Campbell of the Employers and Manufacturers Association said companies had become much more aware of workplace safety.
"Anecdotal evidence is that [work accidents] are coming down - and coming down rapidly. There's been a huge increase in awareness about safety in general and company liability in particular," he said.
Injuries suffered because of motorvehicles cost Aucklanders around 250,000 days of lost productivity in a year. While the vehicle "moderate to serious cost" injury claim rate (excluding motorbikes) in North Shore, Waitakere and Manukau City was well below the national rate, it spiked almost twice as high in Auckland City.
Meanwhile, Manukau City residents had a worryingly high number of assault injury claims, with a rate of 75.04 per 10,000 people - well above the national rate of 59.55.
Other parts of the city, including downtown Auckland and Waitakere, also had higher assault claim rates, while people on the North Shore were less likely to suffer an assault injury.
You can view how your region performed here.