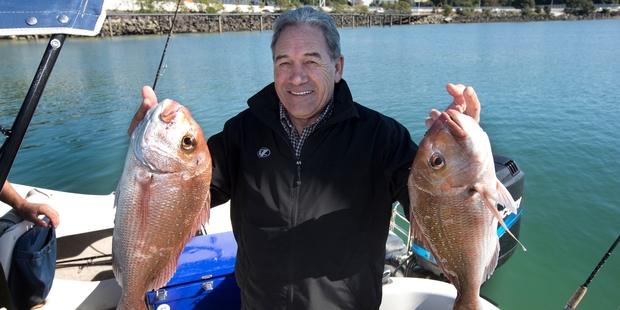 Winston Peters has a great jacket, capable of keeping the most unimaginable weather at bay. It was given to him by a racing club in Ireland. I'll have to take his word about its effectiveness. He hasn't brought it on our fishing trip.
"Dress warm," I've told him on the phone two nights before our late July outing. "And bring a hat."
"I don't need a hat," says Peters when he arrives at the Westhaven slipway at 9am without one.
Perched on the hill above Westhaven, Peters' St Mary's Bay house provides sweeping views of the Waitemata Harbour. Drenched in winter sun with the only disturbance created by ferry traffic, the water is glorious this morning. Looking out his window, Peters decides he doesn't need the heavy jacket, nor the hat.
With a five knot variable wind forecast (the best it ever gets on the water) and temperatures set to rise into the mid-teens, it's an understandable call.
But you can't trust the sea. It's not an entity that feels bound by optimistic forecasting.
I'm already a bit concerned about my fishing buddy for the day. I've been told Peters loves fishing but the signs, which include a shiny pair of black street shoes and the fact that he's already cancelled on me once at short notice on a perfect day (via his press sec), aren't encouraging.
The previous trip fell over because Peters didn't fancy the 45-minute drive out to Maraetai, where I usually launch. So this time I've arranged to pick him up at Westhaven. It takes longer but I'll at least have snagged Peters, ending a two-month pursuit of a man who has become my white whale.
"This is why I like slow boats," he says as a ferry's wake tosses around my 5.15m fibreglass runabout.
Peters' pride and joy is a 1940s kauri clinker moored in Whananaki, the Northland inlet near where he grew up as one of 11 siblings. He also has a catamaran with a couple of 225hp outboards that he acquired because his kids complained the clinker was too slow.
We could have taken his boat, I point out. "Yeah, we thought of that but ... " But that would have involved inviting me inside his inner domain, a realm never truly visited by a journalist.
Instead, Peters has, with trepidation, stepped into my world. My boat. My home waters. My gear. My fishing spot, which is becoming increasingly difficult to get to thanks to a rising, bitterly cold sou'easter.
Gannet Rock, our destination, is still a long way off when the first 25-litre tote tank of petrol runs dry.
"Sure hope there are some fish there," says Peters. This is both concerning and encouraging. Our fishing spot is indeed a fair hike. It's been delivering good bags of large snapper of late, but there are no guarantees in fishing. On the bright side, Peters' concern is exactly the sort of thing a fisherman would express. The idea that simply being out on the water on a nice day somehow makes up for not catching anything is anathema to genuine fishos.
The spot I really want to fish is still a good nautical mile or two off, but the cruel wind barrelling straight down the Firth of Thames is whipping up whitecaps, so we try our luck near Gannet. We're softbaiting, fishing light tackle on the drift.
Peters isn't comfortable with the left-hand wind setup of my gear - for softbaiting I like my dominant hand on the rod - but it's clear he knows what he's doing. He baits his own hooks (trickier than it sounds with softbaits), gets to the bottom no problem and keeps his lure active.
He also deploys the sea anchor without being asked as soon as we stop for a drift. And, after a nervous 20-minute wait for a decent bite, he goes straight for the net when it's clear I have a decent fish on the line.
Then it's his turn, landing a solid winter snapper. We boat another fish each before drifting off the hot patch. "They're up there, aren't they," says Peters, pointing to where we'd hooked up, clearly anxious to get back on the fish.
He points out that the latch on my fish bin isn't closed. I tend to leave it unlatched because, without being too much of a dick about it, I tend to need to open it fairly regularly to drop in another fish. The bin can keep ice frozen for three days, not to mention it's almost as cold outside it as in, but he has a point. We're not adhering to best practice when it comes to caring for the catch.
Fresh seafood is one of life's great culinary treats, Peters says. "If you're not going to look after it then why bother catching it."
He's dead right, if a little pedantic in this case. He's a fisherman all right. He's also, I'm picking as he fishes with his back to the wind and tries to seek shelter in the open cabin, borderline hypothermic.
"I'll tough it out," he says when I offer him my spare polar fleece.
The cold doesn't make for great conversation. We focus on getting a few fish on board so we can get the hell out of there. At one point it's three fish each and I have to seriously consider the possibility Peters will out-fish me. We've been fishing just over an hour when he first looks at his watch. We agree to do one more drift before heading home.
We hit another hot patch and I land three fish in quick succession. I've lost count of how many we've caught. Peters hasn't. "Nine," he says. "It's definitely nine."
Time to go. Peters calls his partner, Jan, and tells her we'll be back at the ramp by about 12.45. "Make sure the car heater is on," he says.
The wind is dropping and with the sun on our backs the return trip is fairly pleasant. My brief is to try to uncover the man behind the mask. So, other than confirming his fishing politics are broadly in line with mine - particularly around the changes recently imposed on recreational fishermen in the Snapper 1 Zone - I've avoided talking shop.
Given the effect it has had on anglers' ability to gift fish to family and friends, cutting the daily bag limit from nine to seven is the most galling of the changes. "Seven is just not enough," says Peters.
Other than when the fishing was hot, the only time he is truly animated is when he gets a message from a friend saying they feel sorry for Colin Craig. I also feel sorry for Colin, mainly because he comes across as the sort of bloke who never really got over being picked on in school, but I suspect this isn't the reason for Peters' glee. Turns out National has just said it won't do a deal with the Conservative leader.
Peters isn't revealing in which electorate he plans to stand. He'll make up his mind in a week or so.
He's good company but, by the time we reach the ramp, I can't really say I know any more about Winston Peters than I did before we set off. He doesn't necessarily listen to advice. He is stubborn, and stoic. He's a fisherman. He has boats and a bach up north. At 69, he could be forgiven for thinking it's time to walk away from politics and relax. But: "Why stop doing what you love?"
He takes just three of the nine snapper, insisting on the smaller ones. My offer to fillet them is declined. "I cook them whole - Asian style." Of course.
He leaves a message on my voicemail at 7.49am the next day, thanking me for the experience and suggesting we go out again closer to Maraetai some time. "I'll buy the gas and the bait," he says.