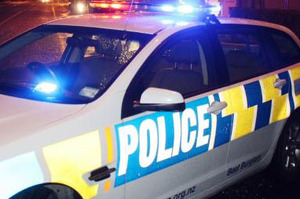 A man seen in the area where a Taranaki grandmother was struck and killed as she tried to remove barriers from a busy highway is being urged to contact police.
Hawera woman Christine Anne Fairweather, 57, was struck by a vehicle in the southbound lane of State Highway 3 at Normanby about 11.50pm on Saturday.
She had stopped her car and turned on the hazard lights as she tried to move metal fence frames that someone had removed from the footpath and placed on the road, blocking the lane.
Mrs Fairweather died at the scene.
Police have been seeking witnesses who may have seen the barriers being moved from the footpath onto the road.
Detective Guy Jackson said police wanted to speak to a man seen walking on SH3 towards Hawera between 11pm to 11.30pm on Saturday.
"We want to speak to him, as he may have seen something which could be vital to piecing together the moments up until Christine tragically lost her life."
The man was described as about 1.7m tall, of medium build, with dark skin and short black hair. He was wearing dark coloured pants, a black hoodie with a white design on the front, and high-top sneakers.
"I encourage this person to contact police as soon as possible, and anyone else that may have seen them," Mr Jackson said.
Police also wanted to speak to any motorists who drove down SH3 between 11pm and 11.45pm on Saturday.
"We strongly believe other vehicles have driven down this busy highway and may have come across the barriers in the middle of the road.
"We would be most grateful if these motorists could contact police as they could help us with our event timeline."
Mrs Fairweather's husband, John Fairweather, yesterday urged those responsible to "man up" and hand themselves in.
He told Radio New Zealand his wife was always trying to help others, but her good deed on Saturday was unfortunately "the biggest mistake she ever made".
"I'm gutted. I've lost the love of my life."
Anyone with information was asked to call Mr Jackson on (06) 215 5263 or the anonymous Crimestoppers line on 0800 555 111.
- APNZ