Te Ururoa Flavell learned the values he lives by from his grandmother, Ranginui Leonard, who taught him to work hard and to 'make himself useful'. Her rewena recipe was part of that family tradition.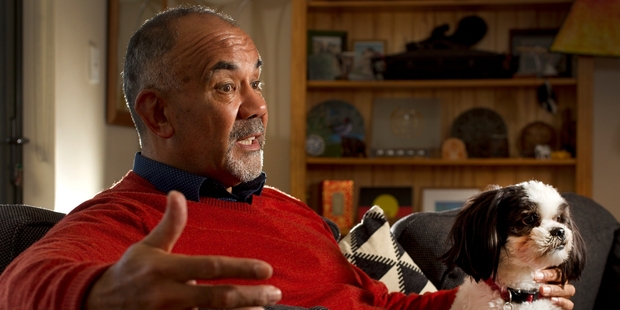 "I honestly don't know what it is," says Te Ururoa Flavell, setting a glass jar of curious white gunk down on his kitchen bench.
"I just know you call it the bug."
The bug - a blend of potato, water, flour and sugar - is the building block for rewena bread, one of the best-loved dishes in the Maori cookbook.
Rewena bread was a constant in Mr Flavell's childhood, and the bug itself might be an apt metaphor for the home in which he's standing now.
Simple things like remembering to open the door for a woman, or making yourself useful about the house, were all taught to a young Hemi Flavell right here during the 1950s and '60s.
What is now a roomy, warmly decorated home was a modest state house, all of it confined to the present size of his lounge.
"It was pretty small, eh," he tells the Herald, momentarily stepping away from the kitchen.
"The window used to be just there, the fire was exactly here ... this was all just a two-bedroom house, you're talking a pretty small place."
It was one of a handful of buildings that sat on his family's Ngongotaha farm, on the western shores of Lake Rotorua.
His grandmother, Ranginui Leonard, spoke only Maori and lived just a short walk away.
He recalls her wandering over the farm and returning with sacks of firewood slung over her shoulder, when she was well into her nineties.
Today, Mr Flavell's home sits among a row of others on leafy Ranginui St; you get there by turning off State Highway 36 on to Leonard Rd.
"Up there was her old house," he says, pointing up the street.
"We had an old cowshed, where you'd milk the cow by hand, and we all played around the back.
"When you were up there, she'd always have a bread on; you'd sit around munching into it, then you'd bugger off."
His grandmother baked the bread in an old cast iron bowl and Mr Flavell reckons it's probably still lying out in the garage.
The bowl he uses, which is a little larger, might be mistaken for it; after two decades of service, it has the look of a veteran tool of the kitchen.
His boyhood association with rewena bread was exclusively that of consumer - learning how to bake it was something that didn't happen until later life.
"I didn't pay too much attention to it, and one day my sister-in-law was making it, so I just asked her casually, 'how do you make it?'
"She said it was easy; six cups of flour, one cup of sugar, put in a little bit of baking powder, sift it into the pot, put it into the big dish and get into a dough."
While nearly impossible to bugger up, patience is required to knead it thoroughly - about fifteen minutes is well enough, he says, and don't forget to save a bit for the bug.
Fresh out of the oven, the bread gave off a smell that could immediately whisk him back to his childhood.
Back then, the lake was deep enough near the shore for him to learn to swim, and later get up on a pair of waterskis. From this happy playground, he stepped into the disciplined world of St Stephen's, the former boarding school for young Maori boys in Bombay, south of Auckland.
The next five years were spent in relative isolation, learning two religions; the Anglican faith of the church-based college, and rugby.
Mr Flavell proudly captained its First XV and has not yet put away his boots and mouthguard.
His last game, he insists, will be with the Parliamentary Rugby Team at a memorial match for Parekura Horomia later in the year.
A career in education began as head of phys-ed at a school in Kaikoura - "I was way too young" - and later took him back to St Stephen's as principal in the mid-1990s.
He flew the Tino Rangatiratanga flag in a move that aimed to make his students proud to be Maori, but also drew controversy with the school board and church authorities.
When he left, his boys gifted him an art work which hangs near the dining table. It features a warrior, the same moko designs that can be found on his back and legs, and a message in Maori, part of which he translates for us.
"From language comes the word, from the word comes the ability to speak, from the ability to speak comes understanding."
The language is as much a part of the Flavell household as the furniture; he and wife Erana's five children have grown up speaking te reo, and even their little shih tzu cross, Mokai, responds to Maori commands.
He battles to have as much contact with family as possible; if not at home each Thursday, then by phone each night from Wellington.
"If you add it up, you spend a lot of time away, and you get tired.
"I drive myself, and you can get off the plane, be really stuffed, and you've still got to get home."
Once there, he prefers to stick around the house - exercise might be a lengthy run around Ngongotaha, and leisure a spot of trout fishing at nearby Awahou Stream.
He's not the type to always have a book on the go - the present exception being the John Key biography Portrait of a Prime Minister.
"When I've got down time at the end of the year, I'm happier just cutting down trees, mowing the lawn, doing the gardens ... just hands-on stuff, maybe a fish now and then."
He said his children, aged from their mid-teens to late 20s, understand that he can't be with them as much as he'd like.
"They see their papa and mama doing their bit, they see the sacrifices they make, and so they get pretty angry when they see someone having a go on Facebook ... so we've just got to tell them to chill out."
Being resourceful and repaying courtesies are also values he hopes his tamariki have learned from their matua.
"When my mother died, and we held the tangi ceremony, I realised that when I saw other people working, I'd make sure I'd give back.
"So I always told my kids, you must give back and support your relations ... and the first part is, get out the back and do work."
Lately, daughter Miria has been learning another Flavell tradition: rewena bread.
"When I first did it, I thought the longer you kneaded it, the better, but ... one lady showed me this way that you don't even knead it, you just put it in, and that was great because the holes in the bread are a lot bigger.
"But if you cut into it too early, it can get really doughy ... and the temptation all my kids have is that they just can't wait and want to slice into it."
It is important to use real butter, which melted nicely into the bread, he said. "Then you whack on the jam or the golden syrup, and, oh man, it's beautiful."
nzherald.co.nz
Read previous entries in this series here: tinyurl.com/leadersunplugged