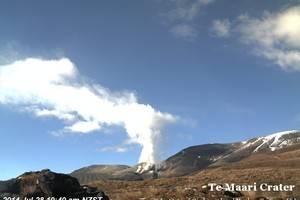 A tall plume of white hot steam which towered above Mt Tongariro today sparked calls to GeoNet "seeking reassurance" the volcano was not on the verge of eruption.
The steam could be seen for miles against a backdrop of a clear blue sky, but GeoNet volcanologist Brad Scott said there was no cause for concern.
"Basically, we're experiencing an awesome day," he said.
"It's calm, it's clear, the steam plume from Tongariro, or Te Maari crater, is standing up beautifully above the mountain. Anybody and everybody that's outside can see it."
While he admitted it was a situation "we haven't had in a while", it was a solely weather-related phenomenon, he said.
The crater had been "steaming away happily since August 2012" when Tongariro erupted, but the steam is not usually so visible because of cloud or wind.
"It's really quite calm [today] which is allowing the steam plume to stand up, and of course being winter and cool there is steam to be seen because of condensation. It's an atmospheric effect."
Normally, wind would "blow the steam plume over", dispersing the visual effect seen today.
The steam plume had resulted in several calls, he said, describing callers as "seeking reassurance", rather than worried.
However, there was no danger.
The steam is caused by hot molten material which sparked the 2012 eruption by coming very close to the surface. The hot volcanic gas within the magma was issuing out of a crater as the rock cools, he explained.
"Because there's insulation in the ground around it, it's very hot, and it takes a long time to cool down," Mr Scott said.
"The new bodies of hot rock don't cool down within a few weeks or days, it's years."
Mr Scott said the gases would separate from the rock -- a process called exsolving -- over years as the rocks cool.
The last time the GeoNet team visited the site they recorded temperatures of exceeding 400C, he said.
- APNZ