With the general election less than two months away, the leaders of all the main political parties will be chasing your vote. But what are they really like once they step outside Parliament? NZ Herald writers have spent the past few weeks catching up with our leading politicians on their own turf to find out what makes them tick. Today Peter Calder talks to Mana leader Hone Harawira .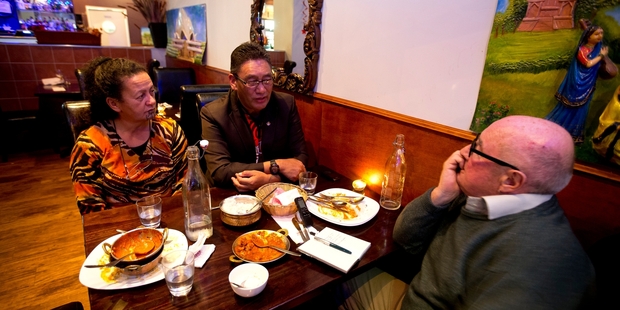 Shouting Hone and Hilda Harawira a flash dinner turns out to be something of a mission. Hilda hardly ever comes to Auckland; her work as principal of the kura kaupapa Te Rangi Aniwaniwa near Awanui keeps her close to home.
After a couple of false starts, we settle on a date. But where to go? The Harawiras' favourite Auckland eatery is Wongkok, a fluorescent-lit, formica-table classic on Victoria St opposite SkyCity. But the MP's executive assistant prevailed on them to break with habit. "They like Chinese," the staffer told me, "and fish."
I duly booked at a celebrated and pricey Chinese seafood restaurant.
But that idea got the boot. There's an Indian place, the reply came, on Hobson St, underneath Denny's (which is where they go when they have the mokopuna in tow). They don't know the name. (It's Raviz, it turns out, a branch of a bog-standard chain).
"We're happy here," Hone says when we finally meet, and I tease him for not taking advantage of the Herald's generosity and requesting the flashest restaurant in town "We're happy there [Wongkok]. If we want to get really adventurous, we walk up to the food court at Imax or across the road to Nando's."
If it weren't election year - we met on the day the Internet-Mana Alliance was formed - the Harawiras may have been less inclined to waste a rare evening together meet with a writer for the Herald. Hone makes no secret of the fact that he has little time for mainstream media ("racist to the bone"); talking to journalists is a necessary evil, but it's not the way he reaches his constituency.
He arrives at the restaurant after me, but he and Hilda set themselves up where they want to sit, either unaware or unconcerned that I have snared a table in a back corner where we can talk in peace. When I respond to a phone call and change tables, Hone eyes me with a caution hard to distinguish from distrust.
Who can blame him? The idea that I might get a measure of the man (and woman) in the time it takes to eat a curry might be seen as preposterous, even presumptuous. But if Hone doesn't welcome media attention with the unctuous ease of the more seasoned political veterans, he endures it patiently.
I suggest we might like to look through the menu and order before getting down to on-the-record korero. "I already know what I'm going to have," Hone says immediately. "Butter chicken and rice." I tease him (again) about ordering the Big Mac of Indian diaspora dishes, laden with sugar and cream. He is unmoved. "Mild," he says, smiling like the Sphinx.
"I'm just a peasant at heart," he says, and I'm not sure this is meant as an explanation of his choice of meal. He's wearing a suit - though no tie; the shirt is a red and black polo emblazoned with the name of his iwi, Ngaitakoto - and he folds back the lapel to show how the dark grey has faded.
"I got this suit the day before I went into the House in 2005," he says. "These trousers are the most comfortable I can find and they're from Farmers. I've never had a hankering for flash clothes - or flash food."
Even the infamous 2009 detour to Paris during a taxpayer-funded trip to a conference in Brussels, which marked the beginning of the end of his time with the Maori Party, was no gastronomic adventure: "We caught the train in the morning, saw everything on a bus tour, and caught the train back. I have had caviar for lunch in the Kremlin with Gorbachev, though. There was just me, him and 2000 other people."
Even if he had a taste for the good life, Hone would have his work cut out getting his hands on the money he earns. The so-called leader's Budget is used "to run Mana all around the rest of the country". Hilda takes the rest.
"My last two pay rises she gave to the food banks and to all these different trusts, so I don't even get my wages."
"We've got our own kids, too," says Hilda. "They are struggling. We got seven."
"And six mokopunas," adds Hone. "And one great-granddaughter." The 59-year-old, a father at 18 and a grandfather at 39, looks very pleased with himself.
Are they all at home, I wonder.
"One in Auckland," says Hone. "Two in Auckland. No, three in Auckland."
"One in Rotorua," says Hilda. "Who's in Rotorua?" asks Hone. "Ngahuia." "Oh, yeah. That's right. She's gone to work for Annette Sykes. Two up north and one in Australia."
They brought a grandson up, and they had their great-granddaughter at home for the first six weeks. "It's not enough, really," says Hone. "That baby should be coming back to live with us to go to the same kohanga reo that our children and grandson went to. It's the best kohanga in the country."
Hone still gets home once a week - he hasn't missed once in nine years in Parliament, he says - but back home (down a side road at the near end of the Waipapakauri straight) Hilda's the boss.
There are always demands on his time, he says, "but I still chill, because I'm at home. I go to the flea market and find out everything that's happening."
He watches league - he loves the Warriors, and Souths, because they have a lot of Aboriginal players - but his mokopuna Maioha ("seven going on 30," says Hilda) makes him watch cartoons. "She pulls me down to earth," he says. "They give you life, the kids. When she walks in the room, the energy lifts."
Under pressure from me and because Hilda says she wants some, Hone changes his butter chicken order to medium (Hilda's having scallops in chilli and garlic). No one drinks.
"I haven't drunk alcohol, or smoked cigarettes, or done drugs for 25 years," Hone says.
"Must have been a hell of a year, 1989," I suggest. "What happened?"
Is that a trace of a smile? "Not exactly 25 years," he says. "And not all at once. I got up one morning and saw my motorbike lying in the driveway and realised I had been to a party at Herekino and driven back along a winding road and I couldn't remember nothing. And I remember thinking, 'God's not going to let me get away with that twice'."
"It's over 35 years," says Hilda, who's plainly been counting. "And the bike was lying down because I kicked it over." Hone flashes her a look. "Nah," she says. "I just made that bit up."
Hone's misspent youth was pretty short-lived. He recognised that if he wanted to be a leader you had to be worth following. And, adds Hilda, hard work got in the way of hard partying.
"We had day jobs and the activism came after work, after the kids. Activists work hard. They don't just stand on corners. We've got boxes and boxes of struggle records going back to the 75 land march."
Hone admits to missing those days when the fight was waged on a small stage, rather than a national scale.
"The world of activism was far more honourable and positive than Parliamentary bullshit," he says. "In the years before I came into Parliament, I achieved things up there that I don't know anybody else who has done that. Managed to save a work trust that they were going to shut down and now it is the biggest work trust in Tai Tokerau. When I started, they couldn't afford to pay me; when I left it was a multimillion-dollar operation. We started a radio station which turned into two, then three, then four.
The food lands and Hone raps the table to shut me up as Hilda does a karakia. "Don't let me order medium again," he says after one mouthful. This is way too hot for me."
Becoming an MP had a sense of inevitability about it, Hone says. "There was going to be a Maori Party and clearly the MP for Te Tai Tokerau was going to be me." He speaks with a mixture of aroha, respect and exasperation about old Maori Party colleagues but says their shared Maoriness transcends personal or political disagreement. "That's always going to be there," he says. "We're whanau. We're Maori."
Hone says the mainstream media is racist because it has a vested interest in preserving the status quo, "and they want uppity niggers like me put in their place".
"Media shape public opinion," says Hilda. "They vilify and persecute outspoken Maori. What they want is the comedian, the nice Maori."
"The Hone Harawira people know," says Hone, "is the media's creation. It's nothing to do with me. But every now and them you get to paint your own picture, by creating the story. No one [foresaw] Hone Harawira doing a deal with Kim Dotcom."
After dinner, we walk across Hobson St. Hone wants to show me Wongkok and point out what he eats on the menu in the window - "sizzling chicken in black bean sauce; they make it as soon as I walk in the door."
I'm taken by his lapel badge, a tiny Australia in the yellow, red and black of the Aboriginal flag, above the word "Deadly". It's a word used by many Aboriginal English speakers to mean "excellent" and the Deadlys are awards given for Aboriginal high achievers.
Hone's is a gift from footballer turned boxer Anthony Mundine and Hone says he wears it with pride. "I tell everybody," he says, "I'm wearing Anthony Mundine's Deadly. And I'm deadly."