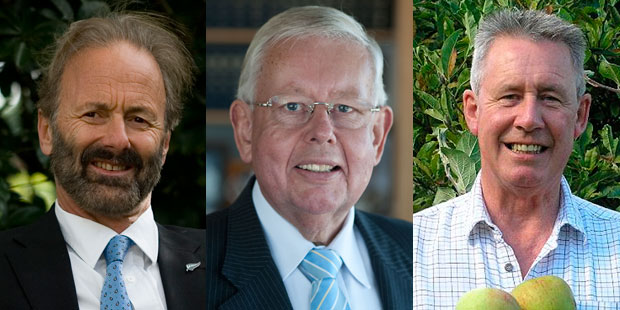 Departing MPs have begun saying farewell in the House this afternoon.
Six National MPs are giving their valedictory speeches at Parliament before a mostly-full chamber.
'Best job I have ever had'
Two-term list MP Cam Calder spoke first, saying he had initially regarded politics with "distaste" but became an MP because he was "shocked and disturbed" at the New Zealand his children would grow up in.
Mr Calder came to Parliament after a diverse career in road-building and scrub-cutting in Taranaki, as a soldier, a dental surgeon, an accident and emergency doctor, and then a businessman and researcher.
"At this point, however, I would like to place on record that serving as working as a MP of the New Zealand Parliament has been the best job I have ever had."
He revisited the three goals set out in his maiden speech - tackling New Zealand's high rates of obesity, creating more marine reserves, and generating greater awareness of prostate cancer.
The Manurewa-based MP said he was "gratified" that progress had been made in all these areas, but also suggested Government could be doing more to cut obesity rates.
Another goal of encouraging renewable energy generation "fell on stony ground", he said.
Mr Calder's high-points were helping to reverse the right-hand rules at intersections and introduce measures which controlled "low-balling" of share offers. His latest member's bill, which will ban high-strength handheld lasers, was expected to pass into law tonight.
After a visit to the Solomon Islands to investigate sexual and reproductive health facilities last year, his resulting report lead to greater New Zealand aid in the region.
In finishing, he thanked both sides of the House, saying that the "theatre of Question Time" often belied the co-operation that went on behind the scenes.
"It is just as well as one could otherwise be worn down by the relentless negativism which sometimes seems to pervade planet Parliament."
'An all-consuming life'
Wairarapa MP John Hayes said the first advice he was given when he joined Parliament in 2005 was to have a "tough outer shell".
"Mine formed soon after arriving when Michael Cullen wacked [Chris] Finlayson and I around this chamber one afternoon."
Mr Hayes' valedictory did not show Parliament in a positive light.
He said he spent most of his first of three terms reflecting on why he had become an MP, which was "an all-consuming life".
"The atmosphere was toxic, not helped by a speaker who screamed and loopy committee chairs."
Visits to Denmark and Sweden's debating chambers showed him that Parliamentary debate could be respectful, and he advised MPs that low voting numbers and public apathy could be reversed if the House was better behaved.
The MP said his "curiosity was satisfied" after nine years in Parliament, and he advised aspiring politicians to instead try the Foreign Ministry.
He also told family people not become MPs: "If you have children don't come near because they will be short-changed."
Mr Hayes spoke of his frustration to advance irrigation shemes in his electorate, which had been held up consent rules, Maori demands, poor leadership and a "not in my backyard" attitude. He recommended a four or five-year election term to allow more time to implement key programmes.
He also spoke of some rewarding experiences, in particular as head of the Foreign Affairs select committee.
During this time he hosted the first-ever Pacific Parliament in New Zealand with 50 leaders from the region.
He concluded: "Finally can I say a thank you, all parliamentarians from all parties. It has been fun working with most of you, and I have made some good friends, including in other parties."
'Let's get real'
List MP Chris Auchinvole, National's oldest MP at 69 years old, told the House it was time to allow the party to regenerate.
Alluding to another 69-year-old, New Zealand First leader Winston Peters, he said: "Would you really want to still be trundling around Parliament at 72? You would need quite an ego if you thought you couldn't be replaced effectively by a younger person."
But he said his age had not made him a "stale" MP, noting that his speech on the same-sex marriage bill in 2012 had trended on Twitter and become an internet hit.
Mr Auchinvole said he would still keep an eye on the election campaign and mocked the "charlatan" politicians that were attracted by the MMP model.
He took a parting shot at the Conservative Party's platform of repealing anti-smacking laws and introducing binding referenda.
"The really strange part is that the parties that say we should have binding referenda are always minority parties and by their own mandate they shouldn't accept to be in Parliament as they did not achieve majority support."
Quoting a constituent, he said: "It is 'cos they want us all to smack kids, or do they have a secret dream of being smacked themselves if only the law allowed it? You just don't know nowadays do you?"
The MP praised the select committee system - "our House of Lords" - where he felt he had made his most valuable contribution.
He concluded by saying that Parliament was a dynamic place and he would probably be forgotten by most people.
"Let's get real ... It managed without me before I arrived and it will manage without me after I've left.
"I don't expect the majority of you to remember me in any shape or form, but I will remember each of you... Thanks for nine unforgettable years."
'Serious consequences' in harvesting
Kaikoura MP Colin King used his final speech to speak about the importance of preserving the coastline in his electorate, which is the home of New Zealand's whale-watching industry.
"Today, there's ten times as many people out on the coastline collecting kaimoana. The targeting of fish, the taking of crays, the taking of paua and other delicacies had greatly [increased] and yet we still argue it's our birthright to help ourselves to such a resource.
"As rational human beings, we know that continuing such as harvest of our kaimoana will result in serious consequences."
He was proud of the co-operation between iwi, the fishing industry, and conservationists which led to the proposed marine reserve in Kaikoura.
Mr King, whose region was also home to viticulture and farming, criticised New Zealanders' growing reluctance to take up physically demanding work.
"We should be concerned when we see those who want to continue living in one location and are not willing or courageous enough to collect up their families and move to where employment is better and more available."
He pointed to the dependence on thousands of Pacific Island workers to fill roles in local industries, saying it was "symptomatic of a nation losing its way".
Mr King failed to win the nomination for the Kaikoura seat, losing it to candidate Stuart Smith.
'In the middle of the ruck'
Napier MP Chris Tremain said he had not been a "political rock star" in his nine years in Parliament but he had been part of a good team.
"To use one of my Dad's analogies, 'It's all very well for wingers to take the glory, but if the props and hookers didn't win the ball there'd be no glory for the twinkle-toes'. I guess I've been in the middle of the ruck."
Mr Tremain, a former Cabinet Minister, entered Parliament by taking the Napier seat off Labour for the first time in 50 years.
He spoke of the highs and lows of representing an electorate, including a visit to a nude colony in his region.
"I spent more time that Saturday morning deciding what to wear than to any other occasion I've been to since. Casual, formal, birthday suit?
"To this day I will never forget driving up the pine-enclosed complex, pulling over in the carpark and watching the reception party walk down to greet us both. [Wife] Ange leaned over and whispered in my ear: 'My God CJ, they really are naked'."
Mr Tremain apologised to his former party leader Don Brash for accidently setting him up in a memorable "walk the plank" photo opportunity when National was in opposition.
He had invited Mr Brash to visit the Earthrace catamaran skippered by Pete Bethune in Wellington Harbour, which resulted in an unfortunate photo of the National leader teetering on a wooden plank while boarding the boat.
"Don - please accept my apologies," he said.
MPs had given him contrasting views of what it meant to be successful in Parliament - from "taking scalps" to managing to keep your family together.
He said he had not claimed any scalps, but he had made gains as a Local Government and Internal Affairs Minister - changes to the gambling sector, online passport applications, and council reforms.
Mr Tremain also captained the Parliamentary rugby team when it won the Parliamentary Rugby World Cup in 2011.
"So have I been successful in this Parliamentary career? By some measures certainly, by others not as well."
He finished with a Maori proverb about "a touch of frost, a new dawn".
'I hope I have made some difference
Waimakariri MP Kate Wilkinson spoke of the privilege of being chosen in Prime Minister John Key's Cabinet, saying it was "like being selected for the All Black team".
But it also had some downsides. Ms Wilkinson witnessed three natural and industrial disasters in her electorate and within her ministerial portfolios: "They say some things happen in threes." The Christchurch earthquakes struck in 2010 and 2011, the Rena oil spill occurred in Tauranga while she was Minister of Conservation, and 29 miners died at Pike River while she was Minister of Labour.
"At least as Minister of Immigration I didn't let Mike Tyson into the country," she joked in her farewell speech.
The National MP said the Pike River tragedy - which later prompted her ministerial resignation - was "sadly" her most memorable moment.
"I cannot resile from the absolute fact that 29 men died under my watch."
But she was proud of the safety measures put in place since: "We often have the national culture of 'she'll be right' - but it too often is not right."
As Minister of Conservation, her high point was hosting Prince William at Kapiti Island.
"I have a photo hanging in pride of place on my wall of the Prince, flanked by the Prime Minister and me. I must admit there was a fleeting moment when I considered cropping the photo."
Ms Wilkinson told the House of some of her policy highlights - her 90-day trial bill for workers, rejecting pressure to add folic acid to bread, and local victories such as a new health hub in Rangiora.
"I hope in some small way I have made some difference to some people."
She said it was time to start emptying her rapidly expanding bucket list - "a big job I know but I'm up for it" - which included trying more of Christchurch's 120 new restaurants.
"Can I say in closing that in 2005 I was so excited to be here - and now nine years later I'm so excited to leave."