Moving messages of love posted on Facebook for 47-year-old father-of-three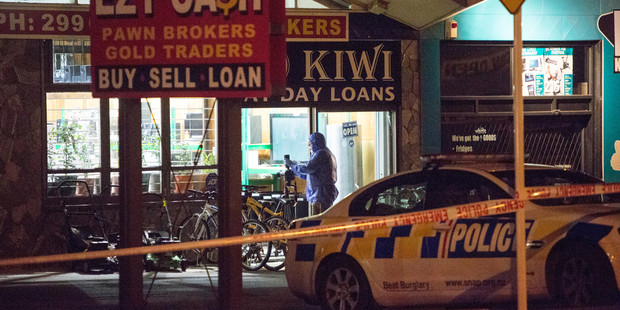 Grieving relatives of one of the men killed in the Auckland pawn shop double homicide have paid tribute to him.
Paul Joseph Mathews, a 47-year-old husband and father-of-three, will be buried tomorrow in Manurewa.
He was killed on Saturday inside the Ezy Cash loan store on Great South Rd in Takanini, along with his boss Paul Fanning, 69, when a man attacked them both before fleeing.
A 25-year-old man accused of murdering the men appeared in Papakura District Court on Monday. He was remanded in custody and name suppression has been extended.
Mr Mathews' wife Arihia posted on Facebook, thanking her "whanau and friends for all your support and love".
"It is truly a sad and tragic time for us all who knew and loved my darling Paul."
His daughter Arihia-Latisha posted a photo of her with her father with the comment: "Been by your side most of the night Daddy, you look absolutely handsome.
I love you."
The father to daughters Arihia-Latisha and Judzia, and son Zane, was lying in state at Manurewa Marae, where his funeral will be held at 11am tomorrow. He will be buried at Manukau Memorial Gardens.
Elsewhere on Facebook, his nephew Michael Jadyn Grace posted a tribute to his "favourite uncle".
"Gonna miss you, my favourite uncle. I lost you and nobody can replace you my bro. You were a dad to me as I grew up.
"You were the uncle who never let us go hungry always made us feel like we were your own kids. I miss you, I love you uncle," he wrote.
His fiancee, Stormee Ayaana Arihia Kaneeqa, also offered her condolences.
"It was such an honour to have known you these past years. [You] always made us feel welcome, offered a helping hand when needed and always had the time for my kids.
"May the peace and love that comes from the many memories shared with uncle Paul comfort all the families. Rest easy Uncle Paul, love you always and forever."
Ann-Marie Perese, from Australia, said: "Thinking of my whanau in NZ. I love you all so very much and I am shocked and heartbroken over the tragic death of my cuz Paul Mathews."
Mr Fanning's son said the family did not want to comment on the case when approached by the Herald.