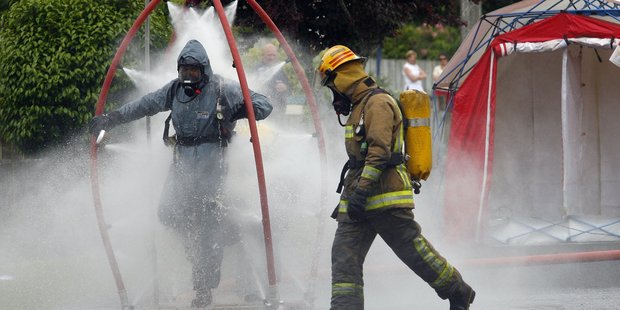 An explosive fire in West Auckland led to downfall of an alleged criminal enterprise living the "high life" on the profits of the illicit drug trade.
Twelve men are on trial in the High Court at Auckland after pleading not guilty to more than 130 charges including the manufacture and supply of methamphetamine, the supply of pseudoephedrine, participating in an organised criminal group, and conspiring to pervert the course of justice.
In her opening address to the jury, Crown prosecutor Anna Pollett said the group could be compared to a corporation with management and staff which carried out different tasks and roles.
At the top of the hierarchy were the "executive directors", Henry Afakasi and Zebulin Davoren, who allegedly oversaw the different divisions of the business and gave out orders to the cooks, couriers and those handling the money.
The "Drug Trading Company Ltd", as described by Ms Pollett, started out solely focused on the manufacture and distribution of methamphetamine, a Class-A drug, but shifted into the supply of the precursor drug pseudoephedrine, a Class B drug, which carried less risk and more profit.
A "pot of gold" of $1 million worth of cash and assets was seized at the end of the 12 month police investigation codenamed Operation Jericho, as well as 4.4kg of pseudoephedrine - the main ingredient in P.
Most of the defendants were unemployed and not receiving welfare payments.
"You may well wonder how could they afford to be living the high life?" Ms Pollett asked the jury.
Ms Pollett said the the covert inquiry started after a fire destroyed a premises in West Auckland in November 2011 which was caused by a clandestine drug lab which exploded.
One of the alleged cooks of the methamphetamine being manufactured there, Filimaea Sililoto, was taken to Middlemore Hospital to treat his badly burned legs - injuries which he said were caused by boiling oil.
Text messages between some of the defendants referred to the explosion.
"Our s*** just blew, honestly", said one of the texts read out by Ms Pollett.
She said the group, who were under police surveillance and whose phones were tapped, were "players in the criminal underworld" and spoke in code in an attempt to disguise the true nature of their conversations.
Separate pieces of equipment used to cook methamphetamine were referred to as "Bob" and "Dylan", but Ms Pollett said she doubted they were talking about the artist who performed "Knocking on Heaven's Door".
The other defendants are Kainui Kaukasi, Vadi Tobia, Jordon Ioane, Foloau Polaulu, Sione Langaue, Matthew Afakasi, John Fetu, Christopher Wise and Justin Lee Abel.
The trial before Justice Kit Toogood is expected to last eight weeks.