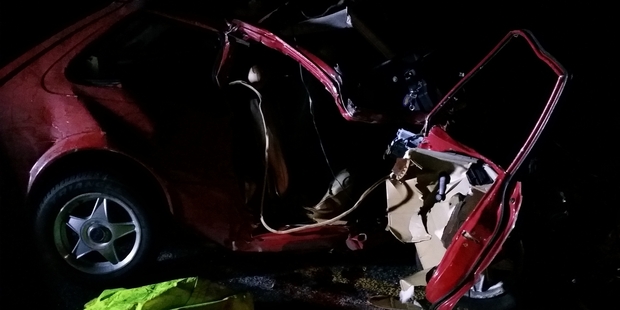 A train driver was unaware that a car had crashed into the side of his coal train at Totara Flat last night, and was almost at Reefton before he was stopped and told of the crash that injured a 22-year-old Cobden man.
The victim was flown to Grey Base Hospital in the NZCC Rescue Helicopter and was today reported to be in a stable condition in the critical care unit with numerous injuries including head lacerations, a right shoulder injury and various broken bones.
The collision happened about 9.30pm on a level crossing controlled by bells and flashing lights, on State highway 7.
Kiwi Rail senior communications adviser David Miller said today the controls were operating correctly at the time.
He also confirmed the train driver was not immediately aware that a collision had occurred.
"The vehicle struck one of the wagons in the middle of the train, and fortunately there has not been a more serious outcome," Mr Miller said.
"Our locomotives are painted in high visibility colours such as yellow. They are also fitted with lights at the front, two of which flash whenever the horn is sounded as the train approaches a level crossing," Mr Miller said.
Constable Mark Watson, of Reefton police, said the car was heading towards Greymouth at the time.
It was the third crash on a West Coast level crossing this year, and follow two fatal crashes near Reefton.
Read more:
* Mounting anger over train fatalities
* Husband and wife killed in collision with train
* Couple killed in collision with train named
* Woman seriously injured in coal train accident dies
In May, Reefton couple Robert and Marieta Jacobs were killed on a crossing just off State highway 69 after visiting friends at Landing Creek. The crossing is controlled by a give-way sign.
That crash occurred only 3km from another uncontrolled level crossing at Swamp Creek Road, where Jane Sluys was killed in January, when her ute was struck by a fully-laden 2000-tonne coal train as she left her property.
Mrs Sluys, 56, initially survived the crash but died in Christchurch Hospital nine days later.
After last night's crash, Greymouth police reminded motorists that trains were on the tracks at all times of the day and night on the West Coast, and at times of poor visibility they could be hard to see.
Police urged drivers to consciously look both ways for trains before crossing the lines.
Mr Miller said there had been seven collisions involving trains in the Buller district over the past decade, two of them fatal.
"Our message to motorists using a level crossing is that they must slow down and be prepared to stop, and they must treat them as they would any other road intersections. Motorists must not cross while flashing lights and bells are operating - even if a train has crossed," Mr Miller said.